Today's note is going to be "uncomfortable"...
But it could lead to one of your biggest trading profits this year.
Let me explain...
Remember, biotech is one of the greatest "boom and bust" sectors known to man.
Since 1983, the sector has seen four triple-digit runs... and one quadruple-digit run of 1,347% in the early 1990s. The busts were equally spectacular, taking the entire sector down by as much as 70%.
After the most recent bust in 2009, the Nasdaq Biotech Index started a huge rally... The index is up 250% in five years. And it was the top-performing sector in 2013.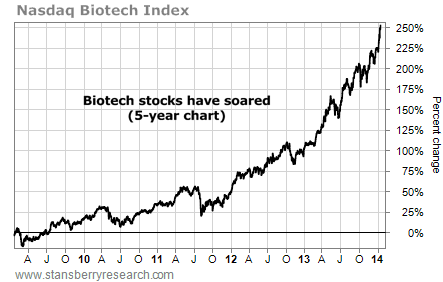 Despite the big run higher, we argued that there would be more gains ahead...

If you gathered 1,000 average investors together, fewer than 10 could confidently say that biotech is one of the top-performing sectors of 2013. In other words, despite the enormous bull market, folks aren't "hot" on biotech... yet.
Money is flowing into these stocks... Valuations are increasing... The story is starting to appear here and there. But it's not on the front page of the papers. It's not a feature story on CNBC. And you won't hear about it at cocktail parties.
It's what we call a "stealth" bull market. And it still has room to run higher.
Now here's the "uncomfortable" part...
If you have big gains in biotech, sit tight.
Many traders, when they see profits in their accounts, get "itchy trigger fingers." They want to pocket a gain before it has the chance to vanish.
Over the long term, that's the wrong strategy. If you collect your profits early, you may cheat yourself out of a big move higher. And with biotech, that could be a very big move higher...
Right now, the companies in Datastream's Biotech Index are trading at over 40 times earnings. That's up from 20 times earnings three years ago. But at the peak in 1999-2000, the index traded up to nearly 140 times earnings.
One classic piece of trading wisdom comes from legendary trader
Jesse Livermore
. As detailed in the book
Reminiscences of a Stock Operator
, Livermore said: "
It never was my thinking that made big money for me. It was always my sitting. Got that? My sitting tight!
"
In other words, his biggest gains came from "sitting tight" through big bull-market moves.
So that's our recommended action to take with biotech today. If you have a large, short-term gain, you might be tempted to take it off the table. But the trend here is still moving higher. So it's better just to let
a trailing stop
tell you when it's time to get out. (We recommend a 15% trailing stop in
DailyWealth Trader
.) That will give your profits room to grow.
It might be uncomfortable to sit tight on this trade. But it's the right thing to do.
Good trading,
Amber Lee Mason