The stock market suffered a brutal decline on Monday.
The S&P 500 fell 21 points, or roughly 1.5%. It looked like the start of a potentially ugly market correction.
But stocks bounced back on Tuesday and Wednesday – regaining everything the market lost on Monday and proving once again the resilience of the bullish momentum.
Despite multiple warning signs – like rising interest rates and record-high margin debt – the bull market simply isn't ready to retire yet. So it's too early for traders to get aggressive with short sales.
But getting on the short side of two sectors with bearish patterns right now might prove worthwhile for any anxious bears...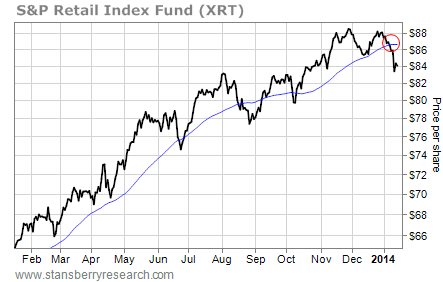 Retail stocks have had a tough start to 2014. XRT completed a potentially bearish "double top" pattern in December. Last week, the sector broke below its 50-day moving average (DMA). That shifts the intermediate-term momentum over to the "bearish" side.
XRT also barely participated in the strong market rally over the past two days. This relative weakness is a warning sign. It suggests more downside ahead for the sector.
Aggressive traders can look to short XRT into any strength and cover the trade for a small loss if it rallies back above its 50-DMA. Otherwise, a reasonable downside target is the late-August low of about $78.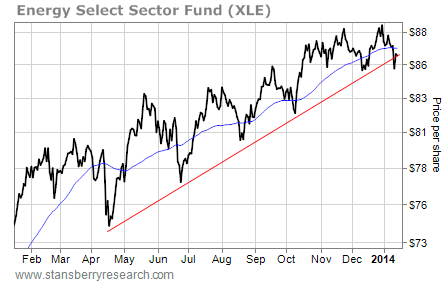 Similar to XRT, XLE recently broke below its 50-DMA. It did that many times in 2013 without rolling over into a bear market. But the difference this time is the price has breached the rising support that connected all the previous lows. This line, along with the 50-DMA, is now resistance at about the $86.50 level.
Aggressive traders can short XLE here and exit the trade on a move above $87 to minimize any losses. A downside target price would be around the October low of $82.
Best regards and good trading,
Jeff Clark