Get ready for a bounce in oil.
After falling 8% over the past three weeks, the price of West Texas Intermediate crude oil (WTIC) is oversold and may be ready for a short-term move higher...
Take a look at this daily chart of WTIC...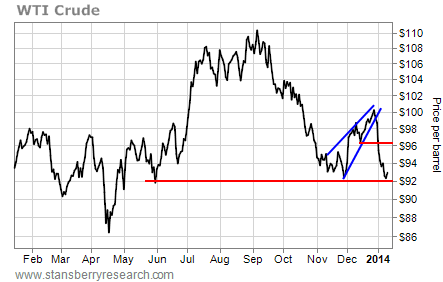 The price of oil broke down from a bearish rising-wedge pattern in late December. It has retraced the entire height of the wedge and is now resting on support at about $92 per barrel. This is a logical place to look for an oversold bounce.
Aggressive traders might consider buying oil here and betting on a move back up to resistance at about the $96 level.
But be sure to take profits quickly. The longer-term outlook for oil is bearish... And the real money is going to be made by shorting it on any oversold bounce.
Here's another way to look at the chart...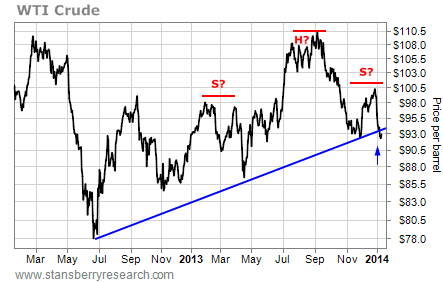 The price of oil has fallen below its longer-term blue uptrend line. By itself, that's a bearish development. And it indicates WTIC could trend lower toward its 2013 low of $86, or even down to 2012's low water-mark of $79.
But there's an even more bearish development happening on the chart. WTIC appears to be breaking down from a long-term "head and shoulders" top formation. This is a bearish pattern that often signals the reversal from a bull market to a bear market.
If the "head and shoulders" pattern plays out, the price target would fall down to $74 per barrel. That's a 19% drop from Monday's closing price.
Rather than trying to trade oil in the commodity market, aggressive traders should look to sell short shares of the United States Oil Fund (USO) on any bounce that takes the price of WTIC up near the $95-$96 area. USO is an exchange-traded fund designed to track the price of WTIC. So it will follow the price of WTIC lower.
Best regards and good trading,
Jeff Clark