A giant, populous Asian country will drive coal prices higher in 2014... and it isn't China.
Like China, India is a growing, emerging market with a population of over 1 billion people – making it the world's second-most-populated country (just behind China) and tenth-largest economy. Because its economy grew at an average annual pace of 13% from 2000 to 2012, it's one of the most-watched emerging markets.
And its rising energy needs will make a big impact in the resource markets in the future – including pushing the price of coal higher.
Let me explain...
Today, India is the
world's third-largest coal user
after China and the U.S. About 60% of the nation's electricity comes from coal-fired power plants. That means as India's power needs rise, its coal needs rise, too.
For instance, India's coal imports rose 43% from 2012 to 2013. And Bloomberg analysts project India will import more "steam coal" than China in 2014. Steam coal is what's used in power plants to generate electricity.
India gets the majority of its imported coal from Indonesia. Here's a breakdown of where it got its coal imports in 2012:

| | |
| --- | --- |
| Country | India's Coal Imports |
| Indonesia | 95.8 million metric tons |
| South Africa | 23.0 million metric tons |
| Australia | 2.0 million metric tons |
| United States | 1.8 million metric tons |
But India's rising demand for
imported steam coal
comes as a surprise to many analysts because India has massive coal reserves.
Its coal deposits hold roughly 267 billion metric tons. However, the mining situation in the country is complicated. It is plagued by antiquated laws and regulations. Its coal-mining industry is nationalized. Mines are built for specific power plants. That can mean one power plant must use imported coal, because a nearby coal mine is for an as-yet-unbuilt power plant.
The archaic condition of
India's coal industry
means it will take years, maybe decades, for India to exploit its domestic reserves. That's great news for coal exporters. As India's economy grows, exporters will be able to sell more coal to the nation's hungry power plants. And it will help push coal prices higher.
You see, for the past few years, steam-coal prices were dictated by China's demand and Australia's supply. (Australia is a major exporter of coal.) As China's growth slowed recently, steam-coal prices plunged.
In August 2013, steam-coal prices in Newcastle, Australia, the world's largest coal port, hit $82 per ton. That's the lowest price since 2009. However, demand for steam coal is on the rise. Exports from South Africa's giant Richards Bay terminal hit an all-time high of 70 million metric tons in 2013. Global steam-coal imports hit 989.3 million tons in 2012. That's up 14% from 2011.
India's surprising rise in coal imports will help tighten up the supply/demand situation. This will likely ensure that the lows seen in 2013 will hold... and help the beaten-up coal sector, which fell 79% from early 2011 to mid-2013.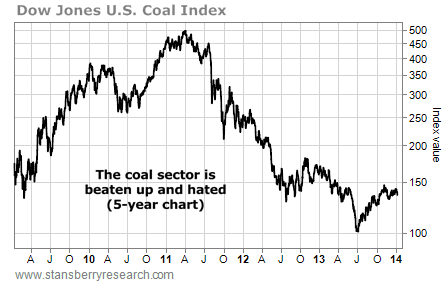 Contrary to what most folks think, coal isn't going out of style. The world is still consuming huge amounts of the stuff. The news on India's imports drives this point home. That's why I like owning the beaten-down coal sector.
Good investing,
Matt Badiali