There's another bullish setup happening in the gold sector.
Yes... it pains me to write that as much as it does for you to read it. We've seen several bullish gold-stock setups fizzle out over the past year – including one from
last November
.
But that doesn't mean we should ignore today's setup. It just means we should be a little more patient and wait for the proper price action before making the trade.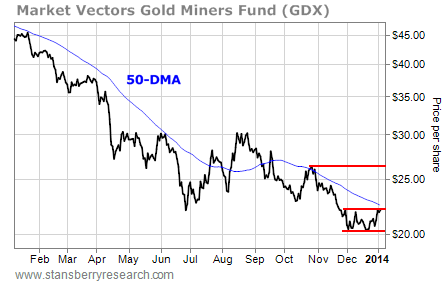 The 50-DMA was a solid resistance level for GDX for nearly all of 2013. The only time GDX managed to get above its 50-DMA was in mid-August, after the Federal Open Market Committee surprised everyone by not tapering its quantitative easing program. Even then, the rally was short-lived. GDX dropped back down below its 50-DMA and has hardly attempted to challenge resistance since then.
Until now.
GDX has been in a low-level consolidation pattern for the past five weeks – bouncing back and forth between support at about $20.50 per share and resistance at about $22.30. That action has given the 50-DMA time to decline toward the resistance line of the consolidating pattern.
If GDX manages to pop above $22.50 per share, it will take out both the resistance line of the pattern and the longer-term resistance of the 50-DMA. This should be enough to kick off at least a short-term rally in the gold sector.
Traders can
buy GDX
on a move above the 50-DMA and then look to take profits as GDX approaches the next resistance line near $26.50.
Best regards and good trading,
Jeff Clark