We hope you and your families enjoyed the holidays... And we wish you the best in the new year.
As for the markets... All we can say is 2014 promises to be an interesting year.
Bond yields are at rock bottom, but rising. And the Federal Reserve has begun tapering its bond purchases... Gold and silver are coming off their worst years in more than a decade... Stocks are at all-time highs... New York Stock Exchange margin debt is at an all-time high (meaning folks are using record amounts of borrowed money to buy stocks)... Stock buybacks are at a record high... And a record amount of money is floating around the world... Total global money supply is at more than $66 trillion and growing at an annualized rate of 6%-plus. It's the largest amount of money in history.
Everything is at an extreme. And yet... investors aren't worried. The Volatility Index (the "VIX"), the market's fear gauge, is still under 15 (compared with 80 in the midst of the subprime crisis). According to Investor's Intelligence, a sentiment poll of newsletter writers, 59.6% of folks are bullish today. Only 14.3% are bearish. This sentiment is indicative of market tops, not bottoms.
Today, we'll look at some of the follies in the market that have been created or bolstered by the Federal Reserve's easy-money policies.
First off, companies took advantage of absurdly low interest rates to issue a record $1.11 trillion in corporate bonds in 2013, according to data provider Dealogic. That surpasses the 2012 record of $1.05 trillion. Investors' appetite for bonds was insatiable last year, even though they lost money.
The S&P U.S. Issued Investment Grade Corporate Bond Index lost nearly 1.5% in 2013, its first down year since 2008.
We also saw some crazy bond deals... Technology giant Apple sold $17 billion of bonds in April, including some 30-year paper. (It's interesting to note a technology company is selling 30-year debt.) It was the largest corporate-bond deal ever at the time. Then, the huge telecom firm Verizon sold $49 billion of debt in September.
Verizon and Apple are still highly rated corporate credits. But lots of money was also chasing higher-yielding, riskier corporate debt. As Jeff Clark wrote in the December 31
Growth Stock Wire
...
Bond investors are buying risk.
Treasury-bond prices are closing out 2013 near their low of the year. But the junk-bond market is going in the opposite direction.
The iShares iBoxx High Yield Corporate Bond Fund (HYG) [a junk-bond fund] closed last Friday near its highest price of the year...
Since June, while longer-term Treasury bonds have lost about 10% of their value, junk bonds have gained about 5%. In other words, investors are selling the safe stuff, and they're taking on risk.
Here's a chart showing the price relationship between the iShares Barclays 20+ Year Treasury Bond Fund (TLT) and HYG...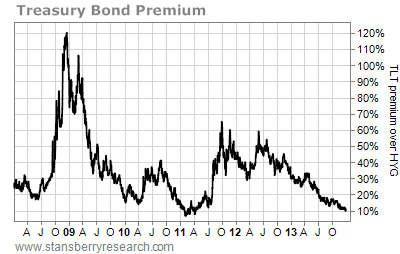 On average, TLT trades at about a 40% premium to HYG. In times of excessive risk aversion – when investors are looking for the safest investments possible, like during the financial panic of late 2008, TLT will trade at a much higher premium.
When investors are comfortable, though, it's a
different story. The Treasury-bond premium to HYG nearly evaporates.
Right now, TLT trades at a mere 10% premium to its junk-bond counterpart.
We spent a lot of time last year discussing the private-equity sector. Steve Sjuggerud recommended private-equity giant Blackstone Group in the December 2012 issue of
True Wealth
. Frank Curzio recommended another major player, Kohlberg Kravis Roberts, in the July 2012
Small Stock Specialist
.
Readers are up 140% and 90%, respectively.
Both Frank and Steve recommended private equity because the sector is a perfect way to play quantitative easing and low interest rates. At their core, private-equity firms borrow money to buy assets.
Over the past few years, these shops have been able to borrow vast sums of money at record-low rates to buy everything from equities to single-family homes. They also charge fees for their assets under management (which have grown to record highs). And they can take advantage of rising asset prices to mark up the assets on their books and sell other assets for rich valuations.
For 2013, investors in private-equity funds are expected to receive more than $120 billion, according to investment adviser Cambridge Associates. That beats last year's record of $115 billion.
Take a look at Blackstone's chart. It recently surpassed the $31-a-share price set at its initial public offering in 2007 (which we labeled a major "sign of the top" in the June 13, 2007
Digest
). The recent rally in Blackstone's stock has put another $3.7 billion in founder Steve Schwarzman's pocket...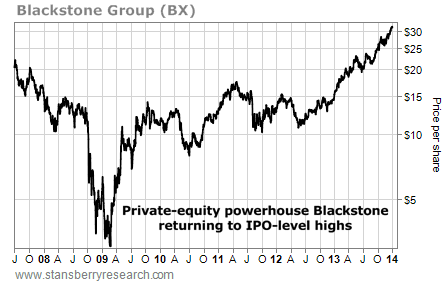 Negative real interest rates – when the rate of inflation is greater than the "risk-free" government-bond rate – force people to take more risks with their money. If you simply hold money in your savings account, you will see your wealth disappear. We're experiencing that today. And that's why we're seeing asset prices soar... The Fed has forced savers into riskier assets, like stocks and bonds.
When inflation is eating people's wealth, you also see an uptick in gambling – another guaranteed way to lose money. Consider the latest numbers from the Chinese gambling mecca, Macau.
Gambling revenue in Macau increased nearly 19% to a record $45 billion in 2013, according to Macau's Gaming Inspection and Coordination Bureau. The semiautonomous region of China overtook Las Vegas as the world's largest gambling center in 2002... And analysts expect Vegas' 2013 revenues will only be one-seventh of those in Macau. Some analysts say Macau's gambling revenue could top $100 billion in the next five years.
For more on Macau, you can read the
November 25 DailyWealth
, which
True Wealth Systems
analyst Brett Eversole filed from the ground in Macau.
Another result of the Fed's policies is soaring prices for "trophy assets." When rich people expect inflation, they trade their dollars for the world's most coveted art, gold, precious stones, wine, and real estate.
In November of last year, somebody paid a record $1.1 million for a rare Rolex watch. And as we discussed in the November 13 Digest...
A 1969 triptych by painter Francis Bacon titled "Three Studies of Lucian Freud" sold for $142.4 million at a Christie's auction yesterday – the highest price ever paid for a piece of art at auction. You can see an image of the work in
this New York Times article
.
A sculpture by contemporary artist Jeff Koons, "Balloon Dog (Orange)," sold for $58.4 million – an auction record for a living artist.
In total, the art auction totaled $691.6 million – smashing the previous record of $495 million Christie's set in May.
Now, an all-time record is about to be broken in one of the most competitive real estate markets in the world, New York City...
The cover of the most recent Departures magazine for American Express Platinum and Centurion cardholders boasts the headline – "The Hunt for the $100 Million Apartment."
It discusses the number of ultra-luxury penthouse condominiums coming onto the market today...
The developers of a building called 50 United Nations, located near the United Nations headquarters on 1st Ave., gave buyers the option to purchase the top-floor duplex and the full-floor penthouse below it for $100 million. It would be the first $100 million apartment sale in New York City history.
The nine-figure New York apartment is inevitable... According to Departures, the owners of an apartment in the Time Warner building (on Columbus Circle) turned down a $150 million offer.
And an investment fund led by hedge-fund manager Bill Ackman recently purchased the penthouse in One57, a new luxury building, for $94 million. Citing "someone very close to Bill Ackman," the article concludes that the fund manager is "waiting for the phone to ring. He has no plans to sell – until someone offers him a billion."
Is a billion-dollar apartment possible? Sure... These trophy assets – be it a Francis Bacon painting or New York City penthouse – can reach absurd heights during inflationary periods. We know we'd rather own them than sit in dollars. "Real estate has become currency," said Izak Senbahar, one of the developers quoted in the article. "New York has become a safe piggy bank... And it's sexy. You can only look at gold, but you can enjoy real estate."
There's a lot of nonsense going on in the markets today. Things are looking toppy. But prices can always go higher (Steve Sjuggerud and David Eifrig both think so). We'll simply repeat the advice we've given you throughout this upward march... Raise some cash by selling some of your riskier positions, and mind your trailing stops.
If you're looking for a tool to help you with your trailing stops (including sending you automatic alerts when your stops have been triggered), we can't recommend our corporate affiliate TradeStops strongly enough. If you'd like to learn more about this tracking service and sign up, you can do so
here
...
Regards,
Sean Goldsmith