One of my top trades for next year has been a favorite of mine for a while... It's up double digits in six months. But I expect more to come.
Banking stocks were dirt-cheap. And interest rates looked like they were moving higher, which is good for banks.
Since my essay, interest rates have gone nowhere – they're at roughly the same levels they were six months ago. And the U.S. government brought several huge lawsuits against banks like JPMorgan, Wells Fargo, and Bank of America.
That's bad for banks... But the headwinds that have held them back are about to change. And it makes banking stocks one of my top trades heading into 2014.
Let me explain...
Despite low interest rates and the government's lawsuits, bank stocks have moved higher over the last six months... But they haven't outperformed the market.
The big
banking fund XLF
is up about 11% since my recommendation in June... The S&P is up 12%.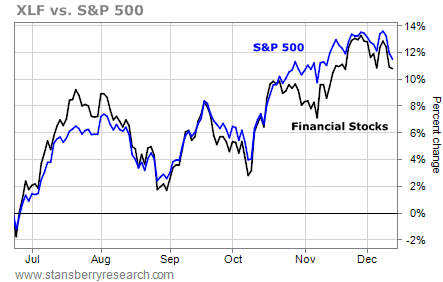 But I expect banks to do much better than the average stock next year...
You see, most of the lawsuits against big banks stem from bad loans made to consumers just before the 2008 credit crisis. But this legal risk is being dealt with...
For example, JPMorgan just paid a record $13 billion to settle the suit regarding its past mortgage practices with the government. Wells Fargo, Citigroup, and Bank of America also settled lawsuits last month with the Federal Housing Finance Agency (FHFA) – which includes Fannie Mae and Freddie Mac.
Executives at these large banks spoke about their legal issues this week at the annual Goldman Sachs U.S. Financial Services Conference. This is one of the most prestigious financial conferences in the world.
They said that while some legal risks still exist, there are several trends that should result in big profits and higher share prices for banks...
One is the reduction of the Federal Reserve's bond-buying program (a form of quantitative easing meant to keep interest rates low). With the U.S. economy expected to grow north of 3% next year and unemployment at five-year lows, the Fed will likely reduce bond-buying in the months ahead. This will cause interest rates to rise...
That's great for banks, because the spread between the cost to borrow money and the actual rates they can charge their customers widens – creating bigger profits.
Banks have plenty of cheap money at their disposal. (The average interest rate on a savings account, for example, is about 0.48% right now.) But with interest rates on long-term debt rising, banks can lend that money back out at much higher rates – say in a mortgage at 4%. So the more
interest rates increase
, the bigger the banks' profits.
More important to investors though, bank balance sheets have never been stronger. And most large banks are looking to return capital back to investors in the form of dividends. Wells Fargo said it also intends to increase its stock-buyback program next year. When a company buys back its shares, fewer shares are available in the open market. So existing shareholders get a slightly bigger portion of earnings.
Looking at the bigger picture, large banks like JPMorgan, Bank of America, and Wells Fargo are trading at an average of 10 times forward earnings. That's a huge discount to the S&P 500 Index, which trades at 15 times earnings.
If you have no exposure to banking stocks, I suggest buying a few right away.
Good investing,
Frank Curzio