In late October, the yield on the 10-year Treasury note was 2.5%. Bond investors had enjoyed an eight-week rally. But we figured it was time for that rally to end. Interest rates looked poised to move higher – which meant bond prices were set to fall.
That is exactly what has happened. Over the past six weeks, the yield on the 10-year Treasury note has jumped 33 basis points – or about 11%. And the
Treasury bond market
– as represented by TLT, the iShares Barclays 20+ Year Treasury Bond Fund – has fallen about 5%.
That's a pretty good gain. But there are more profits ahead...
Take a look at this updated chart of the 10-year Treasury note yield...
The 10-year yield is once again challenging the 3% level. That was the high in September – when we first suggested
rates had climbed too far too fast and were due for a brief decline
. That pullback gave the chart time to consolidate the recent move higher and store up energy for another rally. The odds are better that rates can break through resistance this time.
A break above 3.1% is likely to lead to a fast move up toward the next resistance level at 3.6%. That will be the highest interest rate we've seen in three years. And it will pressure bond prices even lower.
Here's the chart of TLT...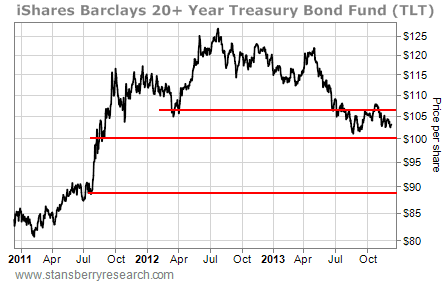 Bond prices move opposite of interest rates. So as rates challenge their recent highs, TLT is testing its September low. A break of the support line near 100 will bring the next support line below 90 into play.
Aggressive traders who went short the bond market six weeks ago have a solid short-term profit right now. But it looks like they'll have even bigger gains in a few more weeks.
Best regards and good trading,
Jeff Clark