The most important number in finance, the yield on 10-year Treasurys, jumped as high as 2.93% this week – its highest level since September. Treasury yields move higher as investors have more faith in the U.S. economy. And we saw two other bullish bits of news on Wednesday...
Payroll processor Automatic Data Processing (ADP) showed the economy added 215,000 jobs in November. That beat expectations of 170,000 jobs and the 184,000 jobs added in October.
And the Census Bureau announced the U.S. trade deficit narrowed to $40.6 billion in October. That just missed expectations of a $40 billion deficit. But it's an improvement from September's $43 billion deficit. Total exports rose to a record $192.7 billion, up $3.4 billion from a month ago. Imports only rose $1 billion to $233.3 billion.
And the announcement included this interesting tidbit... U.S. exports of petroleum-based products (notably refined fuels) equaled $12.5 billion in October – the highest on record. Investors in the shale-energy boom take note.
In short, more data show our economy is steadily grinding higher... as Dr. David "Doc" Eifrig has consistently reported to his
Retirement Millionaire
subscribers.
But before going into the "positives" surrounding the economy, first consider this negative bit...
In October, total margin debt on the New York Stock Exchange stood at a record $412.5 billion (up from $401.2 billion in September). Margin debt is the total value of securities purchased on margin. It's a way for folks to get exposure to securities with less cash upfront. Playing with margin can amplify your gains... But it can also make your losses much greater.
Today, investors are chasing an already-at-record-highs market even higher... And they're using record amounts of debt to do so. It works beautifully until we see a correction... and the levered masses are forced to liquidate their positions and pay that debt back.
Why is this bad news? It's just another sign of the excess and froth in today's market. Asset prices are at all-time highs, debt is at all-time highs... What could go wrong?
Doc addressed this phenomenon in the most recent issue of
Retirement Millionaire
. He explained margin debt to readers this way...
These high debt levels are usually a sign that investors are margining their accounts in order to buy stocks that are most likely trading at or near highs. The current surge in the popularity of margin trading tells me the market is staying emotional. People are getting caught up in the rush of the S&P 500 continuing to hit historical highs. So these investors are leveraging their money in order to buy expensive stocks.

But other indicators tell him the bull market isn't ending just yet...
Our current bull market in stocks is in its 54th month, dating back to April 2009.
The median length of U.S. bull markets has been 52 months. The median measures the middle data point – there are as many data points above the median as below. That minimizes the effect of extreme outliers. We're past the median now. So you're finding fewer and fewer historical examples of bull markets that ran longer than the current upswing... And that means this bull market is getting closer to the end than the beginning.
Doc follows many different economic indicators to "take the market's temperature," and most of these indicators have been grinding higher for years. We can't share all of Doc's favorite market indicators with you. (That's for
Retirement Millionaire
readers only.) But we'll give you a couple from his last issue to consider...
Another indicator I look at is the Federal Reserve of Philadelphia's "Leading Index." It combines data on things like housing permits, unemployment insurance claims, interest-rate spreads, and manufacturing surveys in an attempt to predict where the economy is headed.
When the index is above "0," it indicates the economy is growing. When it's falling down to "0" (or below), that signals a slowing economy. Usually when a descending line crosses about 0.8, we're headed for a recession.
Note that the chart below shows we've remained well above 0.8 since the recession ended, with no downtrend.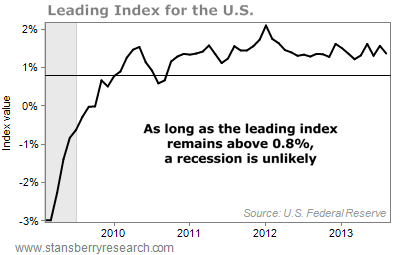 Increases in employment and income also help push my next indicator – construction spending – higher. As more homebuyers enter the market, supply has to increase to meet the demand. As the chart below shows, things are growing steadily, although remaining far below prerecession levels... This is, again, consistent with no recession or slowdown in sight.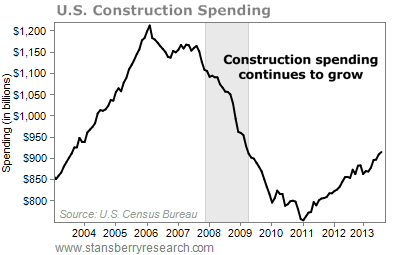 In that issue... Doc told readers exactly where the economy stands today... And he also reviewed the entire Retirement Millionaire portfolio to help readers position their portfolio going into 2014. He also dedicated an entire section of his December issue to tell you "what to do with your extra cash."
Doc currently has 25 "strong buys" in the portfolio... These are stocks and bonds he thinks you should own right now. Many of them pay large dividends. And they should enjoy capital appreciation as this market continues its upward march.
So if you're looking for a way to put money to work today, and you're curious about where we stand in this bull market, Doc's latest issue is a must-read.
And in addition to his market-related advice, Doc also shares his popular "
Retirement Millionaire
Secrets." These are money-saving tips, health and travel advice, and other secrets Doc has learned that help him live the millionaire lifestyle in retirement.
This month, he tells readers the one piece of information you must know before applying for a credit card. And a way you could get up to $2,000 back from the government when you file your taxes.
Doc also recently released a book compiling his extensive research into how to prepare you and your family to survive any kind of crisis – natural, manmade, or economic. His insights include secrets like the best medical supplies and medications to have on hand (and how to get them) to the No. 1 way to prevent almost any home break-in.
You can sign up for
Retirement Millionaire
right now for only $39 for one year. You'll receive immediate access to everything I just discussed... And you'll receive a new
Retirement Millionaire
issue every month for one year. If you decide within the first four months that the service isn't for you, you can get a 100% money-back refund. To learn more,
click here
...