If you want to invest in growth at a dirt-cheap price... look no farther than China.
China is one of the fastest-growing economies in the world. According to the World Bank, China's economy is expected to grow north of 7% in 2014. Sure, that's slower than the double-digit growth China saw less than three years ago. But its economy is still growing at more than twice the rate of the U.S. economy.
My colleague Steve Sjuggerud has seen this growth up close during his visits to the region...
I wouldn't have believed it was humanly possible if I hadn't seen the
growth in China
with my own eyes... China's growth has been crazy. And I wouldn't rule out that its economy could overtake – even double the U.S. economy by 2050.

That's why every investor should have at least some exposure to this emerging market.
And by buying one undervalued stock, investors can get exposure to a number of growing industries in the area, including real estate, energy, and distressed debt.
Let me explain...
In 2005, a private-equity firm sent Joe Bae to Hong Kong.
In the '90s, Bae was a big shot at Goldman Sachs in the Principal Investment department. But in 1996, Kohlberg Kravis Roberts (KKR) hired him to build its platform in Asia.
KKR is one of the largest private-equity and venture-capitalist firms in the world. The company borrows money from investors to buy cheap stocks, bonds, and distressed debt. It makes money by charging fees on these
assets under management (AUM)
. Basically, investors pay KKR to manage their money for them.
As of last quarter, the company had over $83 billion in AUM. To put that in perspective, if KKR was a hedge fund, it would be the largest in the world based on AUM.
KKR's office in Hong Kong started with Bae and just two other employees. Today, as the managing partner for KKR Asia, Bae manages over 100 employees. And he has helped the company raise more than $12 billion to invest in Asia.
KKR currently has three Asia funds – its $4 billion Asia Fund, $2 billion China Fund, and $6 billion Asian Fund II. It uses these funds to invest in dozens of local growth industries (like energy and water treatment) and stock markets in China, Japan, India, and Southeast Asia.
This opens up a tremendous opportunity for investors. You can
buy KKR
today and have exposure to some of the fastest-growing emerging markets in Asia. You'll also be investing alongside KKR's management team – widely considered to include some of the smartest analysts and deal makers in the world.
KKR has been on a tear. Shares are up almost 100% over the past 12 months.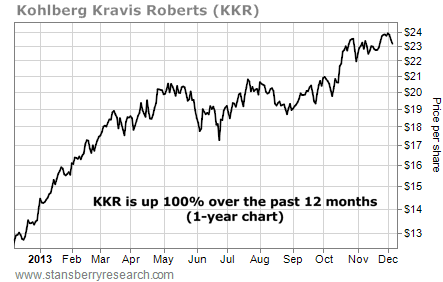 But despite the recent run-up, KKR is still dirt-cheap. Based on my estimates, the company's potential in Asia is not "priced in" to the stock at current levels. Shares are trading at just 10 times forward earnings. For comparison, the average S&P 500 company trades at 15 times earnings.
And KKR will see strong earnings growth well into the future – with more than 15% of its AUM invested in emerging markets.
With the S&P 500 trending lower over the past week, investors can use any pullbacks to buy KKR and hold long term. It's an easy, cheap way to profit on China's growth.
Good investing,
Frank Curzio