It's hard to be bearish in December.
This is the time of good cheer, dancing sugar plums, and brandy-spiked eggnog. It's also the time of rising stock markets.
More so than any other month of the year, December has a bullish bias. Going back to 1950, stocks showed gains in December 47 out of 63 years. That's 74% of the time. If we only go back to 1970, the bulls are 35 for 43 – an 81% win rate.
So like I said, it's tough to be bearish during this time of year. But it's also tough to overlook this...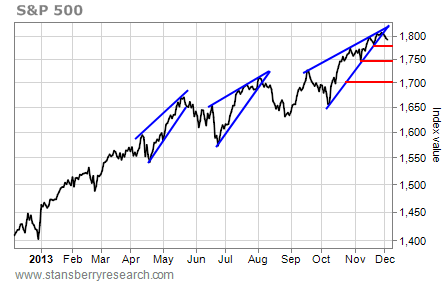 Previous
breakdowns in May
and August led to modest 6% and 4.4% pullbacks, respectively, over the following month. Something similar this time around would set a target for the index somewhere between 1,740 and 1,700.
Yesterday, the S&P 500 tested its first red support line at about 1,780. After falling for four straight days, stocks are oversold enough that they could bounce from this level over the short term.
However, any bounce that fails to rally the S&P 500 to a new all-time high above 1,813 will form a "lower high" on the chart. That's a reversal pattern, and it increases the chances the next decline will take out support at 1,780 and spark a move toward one of the lower support lines.
So go ahead and be cheery. Be merry and full of goodwill. And be bullish if you like. But be careful, too. Given the look of this chart, stocks have more downside.
Best regards and good trading,
Jeff Clark