Income investors take note: A company you've likely never heard of just joined the dividend-paying elite.
RPM International (RPM) is a $5 billion specialty chemical manufacturer. It just raised its annual dividend for the 40th year in a row. Only about 50 publicly traded companies in the U.S. can say the same. And most of those are slow-growing blue chips.
But RPM is different... It's growing faster. And it pays a higher yield.
If you're looking for safe, high-yielding stocks, RPM and its peers offer some of the best opportunities...
You can see what I mean in the chart below...
Since my call, shares are up 35%.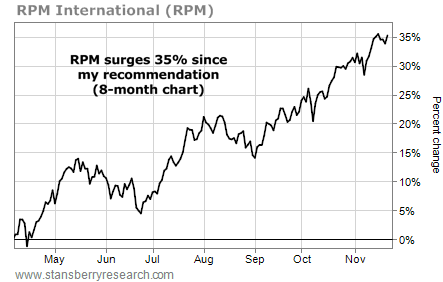 With interest rates so low, there's huge demand for safe, steady dividend-paying stocks – stocks that can compound your wealth over the long term...
Most investors who want dividend income look to giant firms like Coke and McDonald's... But many small-cap firms also have extraordinary records of consecutive dividend payments. And you might be surprised to hear: Many of these names have been raising their annual dividends for longer than the big-name dividend-payers like AT&T and Johnson & Johnson.
Take Diebold (DBD), for example. Diebold is the world's No. 1 supplier of automatic teller machines (ATMs). It's also a leading supplier of security products, like bank vaults and safes. It's a 150-year-old company. And it has increased its dividend payment every year for 59 years.
That's the longest dividend-raising streak of any company in North America.
RPM and Diebold are two of four elite small-cap, dividend-paying stocks that I recommended to my Small Stock Specialist subscribers. All of them are small-cap companies that pay higher-than-average yields, have strong brands, and have raised their annual dividend for more than 20 years.
But their small size makes them fly under the radar of most investors. Big pension funds, mutual funds, and hedge funds are often too big to buy this kind of stock. And because these small-cap, dividend-raising stocks are nearly useless to Wall Street's fee-generation business, you rarely hear them mentioned in the mainstream financial press (whose biggest advertiser is Wall Street).
After its recent run higher, RPM is trading well over my recommended buy price. Diebold is just a bit over right now. You should keep these names on your watch list and look to buy on pullbacks.
Like I said, there's huge demand for safe dividend-payers right now. And I expect the gains we've seen in RPM are just the beginning.
Good investing,
Frank Curzio