One of the stock market's most reliable indicators just flashed a "sell" signal.
Last Friday, the S&P 500 closed above its upper Bollinger Band. Bollinger Bands measure the most probable trading range for a stock or index. So whenever the S&P 500 trades above its Bollinger Bands, it indicates the market is overbought – and likely to reverse lower.
On Monday, the index closed back inside its Bollinger Bands. It confirmed the reversal by closing lower again on Tuesday. So we now have a broad stock market sell signal and the first sign that at least a short-term top may be in place.
Here's a look at the S&P 500 plotted along with its Bollinger Bands...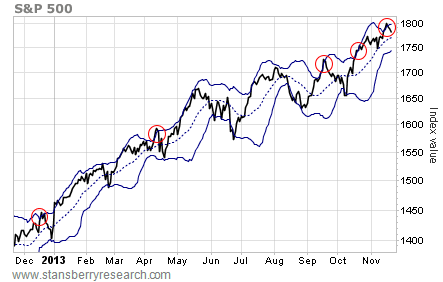 The red circles on the chart show each time this year the S&P 500 has closed outside of its Bollinger Band. Three of the four previous sell signals over the past year kicked off short-term declines that brought the index down to its lower Bollinger Band. Similar action this time around would have the index test support near the 1,740 level.
Of course, there's a chance that the market ignores the sell signal and continues higher anyway – as it did following
the sell signal in October
.
A look at the 60-minute chart of the S&P 500 may give us a better idea of what to expect...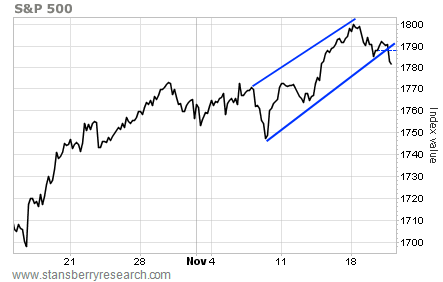 The blue lines on the chart show a rising-channel formation, with higher highs and higher lows. As long as the S&P 500 remained inside this pattern, the bulls were in control and the odds favored a continued move higher. But yesterday, the chart broke down.
With the S&P 500 now trading below support, the bears have a chance to make a move.
Aggressive traders should use any bounces back up toward the former support line – which should now act as resistance – as an opportunity to put on low-risk short sales. The downside target for the S&P 500 is the lower Bollinger Band, currently around 1,744.
Traders can stop out of short positions for a small loss on a move back above 1,795.
Best regards and good trading,
Jeff Clark