It's time to break out the pain chart again.
If you've ever spent time in a hospital, you know what I'm talking about. The pain chart depicts a series of faces that range from happy to sad.
The nurse shows it to you when it's time for your pain medication. You point to the face that best represents how you're feeling, and the nurse drugs you up accordingly.
A couple years ago, I introduced the pain chart as an investment system. It's a simple concept that associates the
best time to buy and sell stocks
with what investors are feeling.
So what does the pain chart say about stocks right now? Let's take a look...
Here's what the pain chart looks like...

As investors, we can use a similar chart to gauge our proper exposure to the stock market.
This simple system is based on the proven theory that the best time to buy stocks is when there's a panic... when investors are suffering the most pain. The best time to sell is when investors are grinning ear-to-ear because of the huge gains in their stock portfolios.
A financial advisor could instruct any client, "Please point to the face on the chart that best represents how you feel about the stock market right now." If the client points to a frowny face, the advisor knows it's a good time to increase that client's dosage of stocks.
On the other hand, if the client points to one of the happy faces, the advisor knows it's time to cut back on the dosage.
It is the easiest investment system ever.
With the S&P 500 trading at new all-time highs – up 24% for the year so far and up 8% since the October lows – I'd bet most investors are relatively pain-free.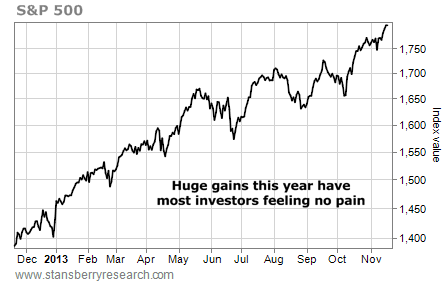 Gold-stock investors, on the other hand, are probably feeling pain of around an eight or 10. The major gold-stock index – the
AMEX Gold Bugs Index
– fell 53% from January 1 to its June 26 low... And it's still down 50% for the year so far.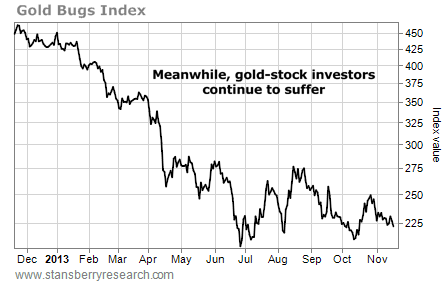 Please drug yourself accordingly...
Best regards and good trading,
Jeff Clark