I've developed a way to make one of my top income investments safer and even more lucrative...
By crunching just a few numbers, I can pinpoint the best times to buy for capital gains... and higher yields.
Let me show you what I mean...
As I've written before, muni bonds are loans to local governments. Cities and states use the cash to build roads, schools, and so on. In exchange, they promise to send investors regular interest payments and pay off the loan in full at the end of a set period of time.
Since cities can raise taxes to pay off debts, municipal bonds rarely default. Despite the headlines you've read about Detroit, Harrisburg, Pennsylvania, and Puerto Rico, muni bonds are one of the safest places investors can put their capital...
Investment-grade municipal bonds (those ranging in grade from A to triple-A) have had a default rate of only 0.017% over the past 40 years, according to Forbes magazine.
In other words, less than two out of every 10,000 investment-grade municipal bonds default. That means out of $100 invested in muni bonds, you'd expect to lose less than two cents due to defaults.
That's just the worst-case scenario. Even in cases of default, investors typically recover about 80% of funds. So that puts the loss at less than half a cent for each $100 invested.
And my "trading for income" method earns higher dividend payments and leads to larger capital gains.
In fact, I recently used it to show my readers how to earn a 10% yield on a tax-equivalent basis.
The first thing I look at is the "spread" between the yield on municipal bonds and the yield on 10-year Treasurys...
You have to pay taxes on income you get from a Treasury bond... But
municipal-bond yields are tax-free
. To make up for the tax hit, Treasurys often yield more than munis. So when muni bonds yield much more than government bonds, they offer incredible value.
The second thing I do is compare the current spread with the average spread over the previous weeks. That helps me identify short-term selloffs, which can be good times to buy.
Finally, I take it one step further and add a measure of recent returns...
While muni-bond prices fluctuate, they are "mean-reverting." They tend to move around a central value. When recent returns are comparatively low, the bonds are due to "catch up"... That can confirm that it's a good time to buy.
Add it all up, and you get a powerful indicator...
In the chart below, the indicator triggers a "buy" when it drops below -0.3. You can see how well it finds great buy points...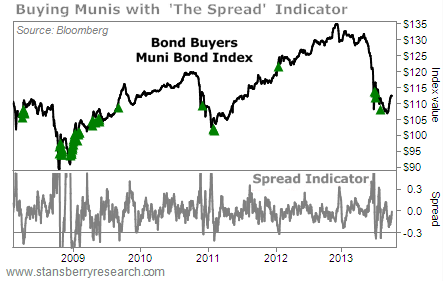 Over the last six years, buying with my method increased your yield by 8%... and boosted your short-term capital gains more than five times over.
And as you've seen in the past couple weeks, this isn't the only "trading for income" strategy I'm putting to work. I use my "timing triggers" to maximize both your income and your capital gains – safely – in a variety of income-paying assets.
In fact, these triggers can set you up to receive 10-20 times more money than others on the exact same investments. If you'd like to hear more about my methods... and how you can personally take advantage of them, starting this month...
click here for details
.
Here's to our health, wealth, and a great retirement,
Dr. David Eifrig