The bond market rally has reached its target.
It hit that target last week.
Take a look at this chart of the 10-year Treasury yield...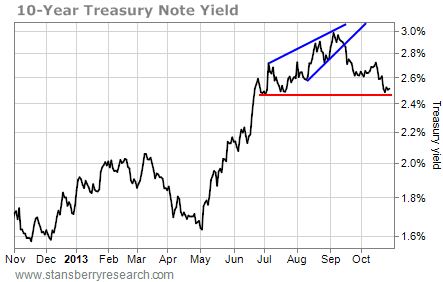 Of course, as interest rates fall, bond prices rise. So we've seen a solid rally in the bond market over the past two months. The iShares Barclays 20+ Year Treasury Bond Fund (TLT) has rallied from about $102 per share to just over $108.
But that may just about do it for the bond market rally.
Here's another way to look at the chart of the 10-year Treasury note yield...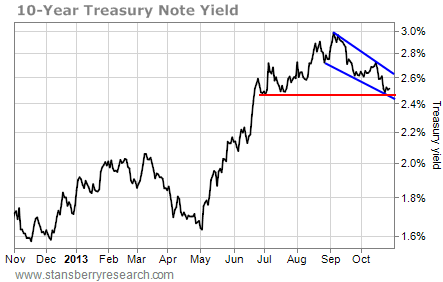 This is almost the exact opposite situation from what we had in early September. Back then, interest rates were bumping into the resistance line of a rising-wedge pattern. Today, the chart is hitting the support line of a falling-wedge pattern (the blue lines).
At a minimum, rates should bounce a bit off support before coming back down and retesting the 2.5% level. But if interest rates break the wedge pattern to the upside, there really isn't anything to hold them back from challenging the September high.
The longer-term chart of interest rates also suggests this short-term downtrend is ending...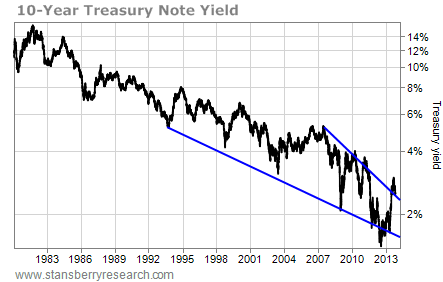 Interest rates recently broke above the resistance line of the long-term falling-wedge pattern. This confirms the reversal of the trend from falling interest rates to rising interest rates. And it confirms the
start of a bear market in bond prices
.
The former resistance line is now support. And support lines usually get tested early in a new trend. I suspect we'll soon see rates on the 10-year Treasury note drift back down to the 2.5% level before they rally even higher.

The chart has indeed come back down to retest its support line. Now it looks ready to rally again.
Rising interest rates are bad for bond prices. So aggressive traders should be looking to start shorting Treasury bonds again.
Best regards and good trading,
Jeff Clark