Over the past two months, we've featured several beaten-down areas of the market... sectors that have suffered tremendous, multiyear bear markets. These include
steel producers
and
shipping stocks
.
A sluggish global economy and terrible investor sentiment have pushed prices down in these sectors. But both have hammered out a long-term bottom... a level where they refuse to fall any farther.
Each sector has put in a series of "higher highs and higher lows"... and each has broken out to a new short-term high.
And as of last week, another global bellwether joined the list...
Freeport-McMoRan (FCX) is the world's largest publicly traded copper producer. It controls the giant Grasberg mine, which is the world's largest gold mine and third-largest copper mine. It's one of the "trophies" of the resource industry.
And Freeport is diversified beyond that, owning many other "trophy" copper assets around the world... along with oil and gas assets in the Gulf of Mexico.
Since early 2011, Freeport shares have been clobbered. Shares are down over 40% from their peak. That has put the stock at a dirt-cheap 42% discount to its assets. But Freeport put in a bottom around $27-$30 per share... and just staged a breakout to a new 11-month high.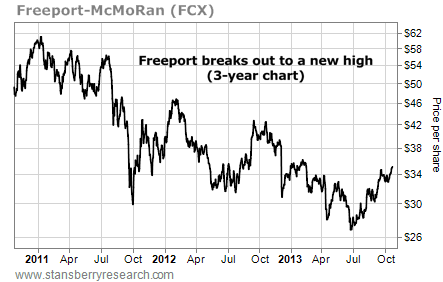 Readers of our DailyWealth Trader service are up about 13% since our recommendation from last month... But Freeport is still one of our top recommendations right now for two main reasons...
First, big-money managers – the folks who manage mutual funds, hedge funds, pension funds, and insurance funds – are now warming up to the idea that
global economic growth is taking place
. That gets them interested in economically sensitive stocks, like steelmakers, automakers, and copper producers.
Second, Freeport's 3.6% dividend makes it attractive to investors who are seeking dividend yields. This will help money flow into the stock.
To sum up, Freeport suffered a brutal selloff from early 2011 to mid-2013. But because investors are catching up to the idea of owning economically sensitive stocks, things are getting "less bad" for Freeport.
The stock's recent upside breakout is confirmation of our thesis... and there are more gains to come.
Good trading,
Amber Lee Mason and Brian Hunt