"Please don't worry so much about your money right now."
Steve Sjuggerud urged readers to stay calm in the October issue of his
True Wealth
newsletter. Steve has been bullish on the stock market for years... He believed, correctly, that Federal Reserve Chairman Ben Bernanke's inflationary monetary policies would cause asset prices across the board to soar. He calls it the "
Bernanke Asset Bubble
."
And prices soared... The stock market is trading at all-time highs. Bond yields are hovering around their all-time lows (bond yields move in the opposite direction as bond prices). The current 10-year Treasury yield is 2.59%. The meager Treasury yields have forced investors to move out on the risk curve to maintain their purchasing power. They've also been buying real estate, commodities, and most any other asset to make sure inflation isn't eating away at their savings.
And Bernanke is showing no signs of slowing down... He maintained quantitative easing at the pace of $85 billion a month. We doubt his replacement at the Fed, Janet Yellen, will change course in any meaningful way.
Steve's bullish stance has allowed his readers to capture huge gains in stocks...
For example, they've made nearly 110% in 11 months by buying shares of private-equity giant Blackstone Group.
Blackstone is perfectly positioned to profit from the Fed's monetary policies. Blackstone is an asset gatherer... It raises billions of dollars to invest across asset classes (from stocks to real estate to buying private and public companies). In addition to earning a portion of the profits on its investments, Blackstone also takes a small percentage of its total assets under management.
As the Fed continues to print money, more and more of it is finding its way into Blackstone's portfolios... That means more fees.
Also, as the Fed inflates asset prices, Blackstone is able to mark up the value of the assets in its portfolio. It can also sell its assets for rich premiums. You can see how well the strategy is working out for shareholders...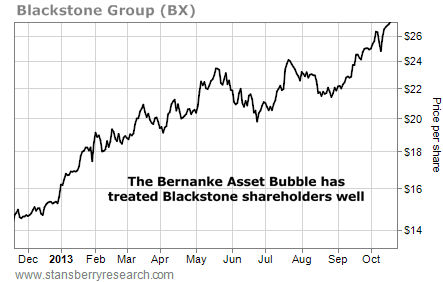 Steve outlined four major reasons why the market still has room to run in the October issue of
True Wealth
:
1) Short-term interest rates are at zero. And the Federal Reserve has said it will keep them at zero for many years.
For investors, it doesn't get much better than this... Short-term interest rates can't go any lower. In short, the Fed is doing all it can to help companies grow quickly. It is a perfect situation for stocks to go higher.
2) Long-term rates – like mortgage rates – are coming off RECORD lows.
I try not to do this in public, but I laugh when I hear people worry about higher mortgage rates killing the housing market...
Yes, mortgage rates are up... But my goodness, they're up from record lows! Mortgage rates are still incredibly low based on history. And house prices in many major cities lost a third of their value in the housing bust. Slightly higher mortgage rates are not going to kill this housing boom.
3) Investors are scared.
Stock investors are scared because stocks are near all-time highs. Real-estate investors are scared because mortgage rates have risen. Investors are scared of the fragile economy, politicians, the national debt, the deficit, Syria, and the list goes on.
This fear is good! It is a clear sign that the markets have not peaked yet. Think about this... There was no fear in real estate in 2006. There was no fear in stocks in 1999.
When there's no fear left, the market has peaked. Today, we're nowhere near that point.
4) Astoundingly, investors are still not in the markets yet. That means there's plenty of upside.
Have you been to a cocktail party lately? Was anyone talking about the stocks they're buying? My experience these days is that nobody is talking about the stock market. It surprises me... but I guess people got burned in stocks in 2000, and they got burned in housing in 2008, and they're not interested in investing anymore.
I saw a graphic this week that showed that CNBC's viewership has fallen to mid-1990s levels. In short, nobody is interested in investing today. This is great news! Investments peak when there's nobody LEFT to buy. Today, we have the opposite situation... Nobody is buying. There are still millions of Americans out of the market who will be in it before it peaks. So there's plenty of upside left.
As Brett Eversole, Steve's research analyst,
reminded readers on Monday
... Enjoy this rally. Let your winners run. But mind your trailing stops. You want to make sure you lock in profits before we see a major correction.
Despite the broader market rally, one sector of the bond market has been left behind...
Investors have pulled nearly $44 billion out of municipal-bond funds this year – the fastest pace on record, according to data from fund-tracker Lipper. Municipal bonds (or "munis") are those issued by state and city governments to fund anything from new sports stadiums to new roads. And due to the nature of these bonds, the interest is tax-free.
The average yield on municipal bonds has risen from 2.17% at the end of 2012 to 3.13%, according to data from Barclays. But the higher yield hasn't been enough to entice buyers... Sales of new munis are down 15% in September compared with last year.
In addition to broader bond-market fears due to the current interest-rate environment, the recent Detroit bankruptcy and Puerto Rico's potential default on $70 billion in bonds has roiled the market. (Puerto Rico's default is the latest scare story in the muni space – around 75% of the island territory's debt is held in muni mutual funds.)
Brett was recently quoted in industry publication
The Bond Buyer
on the state of the municipal-bond market...
The market also dealt with continued outflows out of municipal bond funds, which picked up pace to $729 million from the previous week's $690 million, according to funds that report weekly to Lipper FMI. Funds have reported outflows for 20 consecutive weeks.
"Asset classes in general go through these similar cycles," said Brett Eversole, analyst at Stansberry & Associates. "The most important thing is investors are starved for yield. With zero-interest-rate policy, after inflation you're getting nothing. And what's interesting about munis is they are paying more in yield."
Eversole said yields are higher than Treasury yields, which historically doesn't happen because of the tax advantages of munis. On the 30-year, muni spreads to Treasurys are "higher than reason would dictate."
During the selloff over the past five months, munis sold off as much as Treasurys, and maybe oversold, Eversole said. "Bonds in general are a dirty word to investors today. But the sentiment is too negative and I think that should set up an intermediate-term rally in the next six to 12 months. Munis have much more of a value proposition than any other bond today."
In
Retirement Millionaire
, editor Dr. David "Doc" Eifrig is still urging subscribers to buy munis. In a recent
Retirement Millionaire
update, in response to a reader question, he wrote...
I love munis right now. You can get tax-free income that's equivalent to the best junk-bond yields in the past two decades. This situation is unheard of in my investing lifetime. And as we've written many times before, the default rate on munis is below even the best-grade corporate bonds.
Doc currently has three municipal-bond funds in his
Retirement Millionaire
portfolio... And all three are rated a "strong buy." In some cases, these funds are trading for double-digit discounts to net asset value (meaning you can buy the portfolio of bonds for around 11% less than their market value)... And all the while, you can collect tax-free yields of 4.9%-6.8%.
You can sign up for a risk-free trial of
Retirement Millionaire
for only $39... And you can get immediate access to Doc's three favorite municipal-bond funds to buy right now. Finding safe, rich income opportunities is one of Doc's missions in
Retirement Millionaire.
To learn more about the research he's done into income investment opportunities – and how to subscribe to
Retirement Millionaire
–
click here
. If you decide the publication isn't for you, we'll refund you 100% of your money.
Regards,
Sean Goldsmith