Right now, Royal Dutch Shell is working on a new technology that will change the face of natural gas production.
It's going to start building cities on the ocean...
Over the past three years, I've written a lot about the enormous boom in North American energy production. New technologies have allowed us to access vast amounts of oil and gas reserves. Now, fortunes stand to be made by exporting all that energy.
But oil giant Shell is taking a different approach. It's in the process of building the world's first floating LNG tanker ("FLNG").
So far, Shell has devoted 600 of its best engineers and over 1.6 million hours to build this tanker. It will be the length of four football fields and weigh 600,000 tons. That's six times heavier than the biggest aircraft carrier in the world. It's practically a floating city.
And it's capable of drilling for natural gas almost anywhere offshore. The clean fuel is then turned into LNG on the tanker by being cooled to -260 degrees Fahrenheit, which turns it into a liquid. This process shrinks the volume of the gas by 600 times – allowing even more natural gas to be shipped.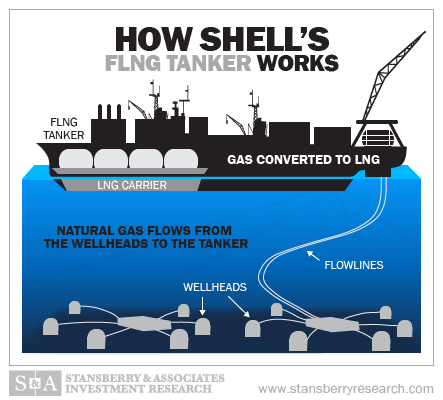 Marin Katusa, Casey Research's chief energy investment strategist and one of the world's smartest resource analysts, believes this technology will "change the face of the natural gas industry forever."
This is revolutionary for two main reasons. First, it's cost-efficient. Sure, it costs billions of dollars to build an FLNG tanker. It costs about the same as building an LNG export terminal, which can run more than $10 billion. But there are no pipelines or a need to operate a plant onshore.
Also, the LNG export market represents over 330 billion cubic meters per year. That's worth roughly $170 billion, according to energy giants BP and LNG Japan Corp. (which used the average price of natural gas in Japan). In short, Shell should have no problem recuperating the building costs.
But Marin believes the second advantage is much more important.
You see,
drilling for natural gas
carries huge political risk. In America, we can drill almost anywhere. But in most countries, governments require a huge piece of the pie. And the government can change a deal to drill at any moment for several reasons, including how much natural gas is produced or if a new political party takes office.
But since an FLNG tanker has the ability to explore for natural gas almost anywhere offshore, it can move to another field almost immediately if a deal changes. And it can move next to markets that are paying the highest prices for the fuel.
Shell is in the final stages of completing its tanker – which will be the largest offshore floating facility ever built. Energy giants ConocoPhillips, GDF Suez (a French energy company), and Petronas (the national oil company of Malaysia) also have plans to build FLNG tankers in the coming years.
However, Shell should benefit from being the first to market. It has over 3,500 patents tied to its FLNG technology. And in the years ahead, Shell will know more about this market than any other entity in the world.
In short, FLNG is a game-changer for the natural gas industry. And you'll likely be hearing more about this topic in the months and years ahead.
Good investing,
Frank Curzio