The market has it backwards.
For the past couple weeks, stocks have been waffling back and forth on news over the debt ceiling. The market falls whenever we get news that the president and the House of Representatives are too far apart to reach a deal. Stocks rally when we hear rumors that a deal is coming together.
News of an agreement yesterday pushed the S&P 500 20 points higher. The consensus thinking is that once an agreement is signed and the debt ceiling is raised, we'll go on with business as usual... And stocks will move higher.
But that's not how it worked in 2011 – the last time we dealt with the
debt ceiling
.
Back then, stocks were just as volatile as today – rallying on news of a possible deal, and falling when the deal fell through. And the consensus thinking was pretty much like today – the debt ceiling would be raised and stocks would rally.
But the consensus was wrong. Here's what happened...
The stock market waffled back and forth for most of July 2011, as Congress and President Obama tried to hash out a deal. They signed a
deal to raise the debt ceiling
by $2.1 trillion on August 1, 2011.
Rather than rallying on the news, stocks sold off. In fact, they collapsed. The S&P 500 lost 12% in just one week.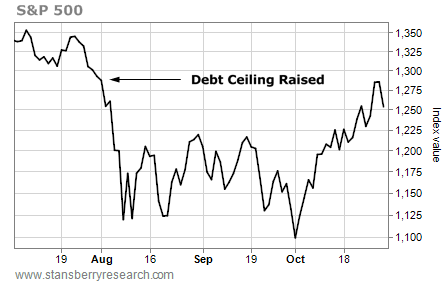 Something similar could be on tap this time around.
Stocks aren't oversold anymore. They're closer to being overbought. Investors have been anticipating a debt ceiling deal to come out of Washington. And they're buying stocks in anticipation of the deal getting signed.
But if things play out like they did in 2011, traders should get ready to sell on the news instead.
Best regards and good trading,
Jeff Clark