The market just confirmed a "crazy" idea we showed you last month...
The steelmaking industry is one of the market's major "boom and bust" sectors. And for the past few years, steel has been in "bust mode." Steel prices have fallen more than 30% from their pre-financial-crisis levels... And some smaller players in the steel sector are in danger of going bankrupt.
The price action is terrible. The news is terrible. The sentiment is terrible. In other words, things are definitely "bad" for the steel sector. Most folks would call you crazy for owning these stocks.
And that's precisely why we suggested you buy.
U.S. Steel (X) is America's largest steelmaker... It makes steel that goes into automobiles, structures, appliances, and containers. The "bust" conditions destroyed the stock. Shares fell from a high of $60 in early 2011 to a recent low of $16 – a 73% decline.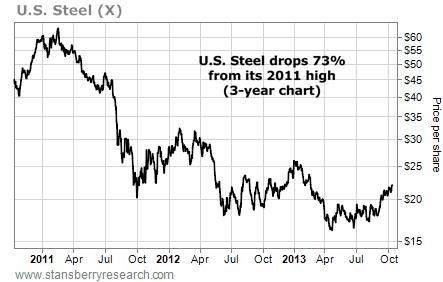 But as we explained, big steel busts are followed by big steel rallies. And with a gradually improving U.S. economy, we expected conditions to improve for the sector...
Steel was the next train ready to leave the station.
It's already on its way...
The stock is up 20% since we recommended DailyWealth Trader readers buy it two months ago. And just yesterday, shares of U.S. Steel broke out to their highest level in seven months.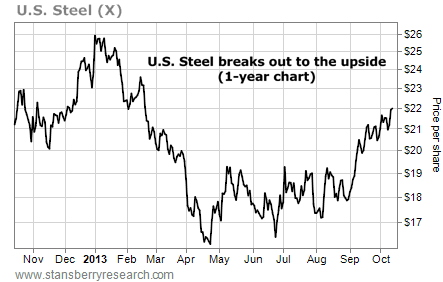 U.S. Steel's upside breakout is extra-impressive when you consider what the broad market is doing.
While U.S. Steel is up 20% over the last two months, the broad market has moved sideways with a lot of volatility. Its recent dips have scared many investors. Meanwhile, U.S. Steel has quietly registered a large short-term gain. And it has done so on strong trading volume.
This is a sign that big-money investors are buying shares in this beaten-up "boom and bust" play. Big investors are stepping in to help produce the next boom.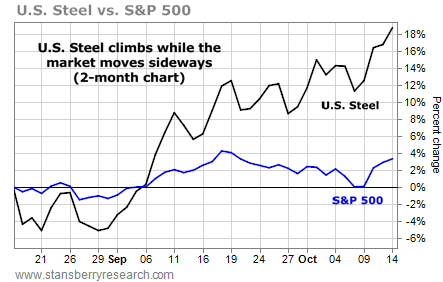 Given the big short-term rally, U.S. Steel is a bit "overstretched" to the upside... So we don't recommend taking a new position at these levels.
But if the crowd warms up to the "crazy" idea of owning steel – if the sector returns to "boom" mode – there are big gains to come.
Good trading,
Amber Lee Mason and Brian Hunt