The opportunity for triple-digit gains doesn't come around often.
But my colleague Steve Sjuggerud has discovered what he calls "the secret to triple-digit gains."
By using this secret, he's able to eliminate a mistake many investors make that guarantees they won't cash in a big winner. And if you put this secret to work today, you'll be in position to make the most of your winning trades...
I know that sounds basic. But the truth is, many investors just can't get it down. They want to close a trade once they see a little profit. And they ride their losers down farther and farther... waiting and hoping for a rebound that rarely comes.
Steve's
True Wealth
readers have executed this "secret" perfectly through shares of Blackstone Group (BX). Blackstone is one of the planet's biggest
"alternative" asset
managers. Basically, people pay Blackstone to manage their money for them.
Steve recommended buying shares back in November 2012. And as you can see in the chart below, Blackstone soared over the next six months. But selling early and taking profits off the table would have been a big mistake...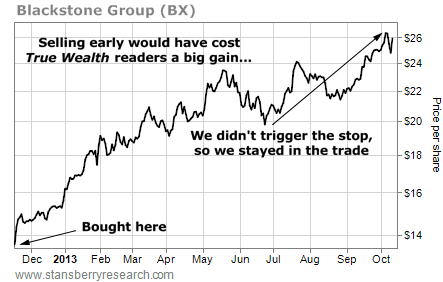 After climbing so much, Steve figured Blackstone was due for a correction. So when shares fell 16% over the summer, he didn't tell readers to sell. (Of course, we closely watched our
trailing stops
. But the story hadn't changed, so we didn't sell early.)
As you can see from the chart above, Blackstone shares have started to soar again. Steve's True Wealth readers are up nearly 100% in around 11 months.
That kind of gain doesn't come around often. But it will never come around if you sell your winners early. You can't make 100% gains by cashing in when you're up 10% or 20%.
Stocks are up more than 40% over the past two years. So you may be sitting on winners like Blackstone in your portfolio. And you'll have more winners throughout your investing career. That's why it's vital that you hold those winners and make big money rather than sell too early and take a small profit. It's a simple lesson... but it's so important, Steve calls it his "secret to triple-digit gains."
Good investing,
Brett Eversole