Wall Street's version of Santa Claus, Federal Reserve Chairman Ben Bernanke, announced last week that the Fed will continue to throw 85 billion freshly printed dollars into the market every month in an effort to keep interest rates low and help prop up the U.S. economy.
Stocks, gold, and bonds all rallied sharply on the news.
But for gold and stocks, the rally was short-lived. Both markets are pretty much back down to where they were before the announcement. The bond market, though, has continued its rally.
The action makes sense, when you think about it. Bond investors were concerned that the Fed was going to ease up on its bond purchases. So the announcement that the Fed will keep the charade going a while longer lessened investors' sense of urgency to get out of the bond market. After all, as long as the Fed is there to keep a bid underneath prices, investors shouldn't have to worry about falling bonds.
Besides, as we pointed out two weeks ago,
the bond market was oversold
going into the Federal Open Market Committee (FOMC) meeting. Interest rates had spiked higher, and the chart of the 10-year Treasury yield had taken on a bearish look.
Here's an updated chart...
The FOMC announcement provided the catalyst that pushed the 10-year Treasury yield below the support line of the rising-wedge pattern. The next support line down around 2.5% looks like a good target for this move.
But this short-term action doesn't change the longer-term bullish setup for interest rates and the bearish setup for bond prices. The rapid rise in interest rates over the past year is a game-changer. The bond bull market is over.
Here's a longer-term look at interest rates...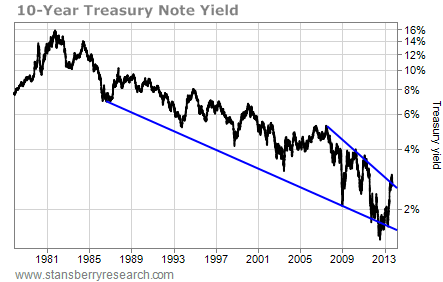 Last week's Fed announcement did ease the selling pressure a little. And bond prices are likely to rally a bit more over the next few weeks. But it's just a short-term break in the normal trend.
Bernanke looks like Santa Claus to bond investors right now. But he may look like something totally different by Halloween.
Best regards and good trading,
Jeff Clark