The U.S. economy is steadily grinding higher...
The stock market is near its all-time highs. Home prices are rising. The manufacturing sector (as measured by the Manufacturing Purchasing Managers Index) is improving – meaning it's buying more raw materials and supplies. U.S. automobile sales are approaching their strongest point since 2007. Weekly jobless claims are declining. And interest rates are rising.
That's what happens when you pump trillions of dollars into an economy... It eventually moves off bank balance sheets and into the hands of businesses and individuals. We're starting to see that money work its way through the system.
As the economy improves, demand for goods increases... and the shippers can charge more for their services. To track the cost of shipping dry goods overseas, simply follow the Baltic Dry Index.
Shipping rates are soaring right now...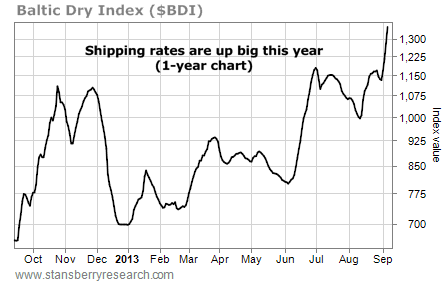 When people are feeling rich, they throw their money away...
How else would casinos prosper?
In addition to shipping, commodities, and consumer spending, casino stocks are also a good indicator for our economy's health.
With the stock markets still near their all-time highs, people are feeling rich. And in addition to being more comfortable spending money on cars and other goods, people are more comfortable gambling.
As you can see from this chart of the Market Vectors Gaming Fund (BJK) – which contains gaming giants like Las Vegas Sands, Wynn Resorts, and MGM – gambling stocks are at new highs... And they've crushed the overall market...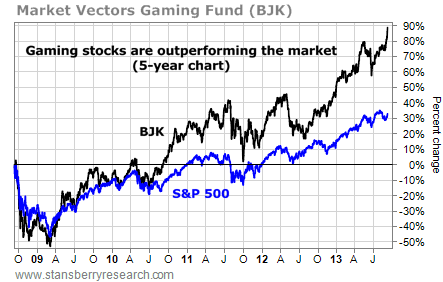 All of this plays into Steve Sjuggerud's "script" for how the markets will react to the
Bernanke Asset Bubble
– the asset price inflation resulting from Federal Reserve Chairman Ben Bernanke's money printing.
Steve has broken the economic recovery into three acts. (You can read more about the recovery
here
.) And he believes the final act – Act III – is just beginning.
Luckily, this is where the huge money is made – potentially hundreds of percent from here.
During Act III, Mom and Pop start buying the riskiest stocks in the market – like gold miners, commodity stocks, and emerging markets. (
As Frank Curzio noted
, steel stocks are still trading at their 2009 price levels. And as Act III continues to play out, this sector could soar by triple digits.)
Steve is closely monitoring the economy and how it's fitting into his three-part script. And he's been updating his
True Wealth
readers about the progress.
For example, in his latest issue, out last month, he recommended a beaten-down sector with triple-digit upside potential. (His readers are up 6% on the position.)
These are big, well-known businesses... They're making lots of money. But they're trading at dirt-cheap valuations.
Steve has made huge gains buying various sectors as his script plays out. His readers booked 165% profits in Texas Pacific Land Trust. And they're up 161% in the ProShares Ultra Health Care Fund... 92% on Berkshire Hathaway... and 69% on homebuilder stocks.
Steve knows this rally can't last forever. But he thinks we can make huge profits before the downturn. To learn more about Steve's market script – and how to profit from the beginning of "Act III" –
click here
...
Regards,
Sean Goldsmith