As interest rates bottomed in July 2012, Treasury bond prices peaked.
Since then, the 30-year Treasury bond yield has blasted from 2.5% to 3.9%. That's a 56% increase in just over a year. And bond prices have been crushed. The iShares Barclays 20+ Year Treasury Bond Fund (TLT) has fallen nearly 20%.
So much for the perceived "safety" of U.S. Treasury obligations.
In July, I warned that the
bond market bubble was ready to pop
just one day before it burst. But investors who didn't take my advice to get out back then may soon get one more chance.
Bonds are in a bear market – one that will likely last many years. You see, interest rates are going to move higher over time. For the short term, though, the rally in rates is a bit extended and the yield curve is steeper than it has been at any time in the past decade. In other words, the difference between short-term rates (which are near zero) and long-term rates (which are near 4%) is the largest we've seen in 10 years.
So either short-term rates need to bump up a bit or long-term rates need to fall to bring the yield curve back to more normal levels. And since Bernanke has promised to keep short-term rates near zero well into 2014, long-term rates are set to pull back. This will give investors a chance to sell their holdings on a bounce.
Take a look at this long-term monthly chart of the 10-year Treasury yield...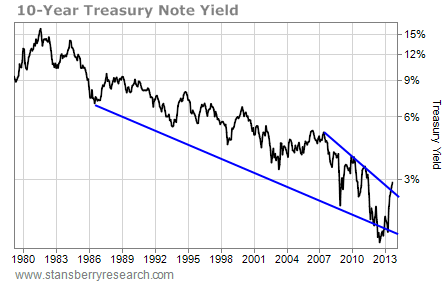 Interest rates recently broke above the resistance line of the long-term falling-wedge pattern. This confirms the reversal of the trend from falling interest rates to rising interest rates. And it confirms the
start of a bear market in bond prices
.
The former resistance line is now support. And support lines usually get tested early in a new trend. I suspect we'll soon see rates on the 10-year Treasury note drift back down to the 2.5% level before they rally even higher.
The shorter-term daily chart confirms this idea...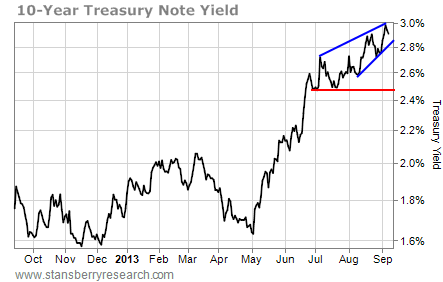 On this chart, rates are in a bearish rising-wedge pattern. A break to the downside should lead to a test of the red support line just below 2.5%.
Best regards and good trading,
Jeff Clark