The current pullback in the mining sector may be the last chance to jump into gold stocks before they explode higher through the end of the year.
Back in June,
gold stocks were set up for a violent rally
. Since then, the Market Vectors Gold Miners Fund (GDX) has bounced from a low of about $22 per share to a high of just above $31 per share last week. That's a 40% rally in two months – which qualifies as "violent."
Over the past few days, though, gold stocks have pulled back. And a lot of folks are wondering if that's all there is for the gold-stock rally.
It's not.
Pullbacks in uptrends are buying opportunities. So the action over the past week gives traders a chance to buy gold stocks.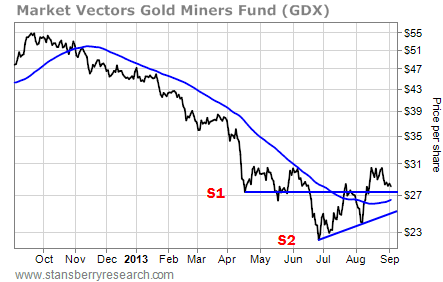 There are three logical areas of support just below yesterday's closing price. The first support line (S1) is at about $27.40. Traders can start nibbling on gold stocks at that level.
A more likely downside target is the 50-DMA line at $26.50. During the early stages of a new uptrend, it's common for a stock to come back down and test the 50-DMA from above. That's the spot to get more aggressive with purchases.
Finally, there's additional support just above $25 – on the line that connects the series of higher lows (S2). That should be about as low as this current pullback goes. Any decline below that level would threaten the validity of the new uptrend and likely lead to a retest of the June lows.
But given how oversold the gold sector was in June and how violent the bounce has been off the bottom, this new uptrend has a lot farther to run.
Traders should buy any pullbacks toward support.
Best regards and good trading,
Jeff Clark