Nobody bombed Syria over the weekend.
That's good news for anyone hanging out in the general vicinity of Damascus. It's also good news for most folks on Wall Street.
The S&P 500 futures were trading up 15 points on Monday night. So stocks should be showing decent gains this morning. In fact, the S&P 500 should take back a good chunk of what it lost last week.
Today's action, though, won't reverse the current intermediate-term downtrend for the stock market. It's just a
short-term bounce
, like the kind we warned you to keep an eye out for a couple weeks ago.
This bounce will relieve the market's current "oversold" condition. It'll punish the traders who got too aggressive on the short side. It'll help bolster bullish sentiment and maybe get folks talking about a year-end rally. And it'll set the stage for some low-risk short sales for traders, like me, who think the market still has farther to fall over the next several weeks.
Here are a few sectors that look especially vulnerable, and where a decent bounce may set up a good short sale or two...
Let's start with the banks...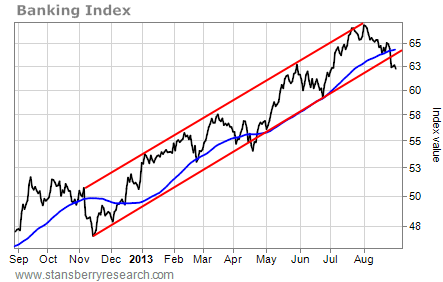 Last week, the banking index broke down from its rising channel pattern – a series of higher highs and higher lows (the red lines). It also dropped below its 50-day moving average (the blue line). Both of these are bearish developments and signal the intermediate-term trend for the
banking sector has shifted from bullish to bearish
.
Traders should use bounces up toward the 50-DMA and former support line of the rising channel (which is now resistance) as a chance to sell or short the sector.
The retail sector (
XRT
) looks a lot like the banks...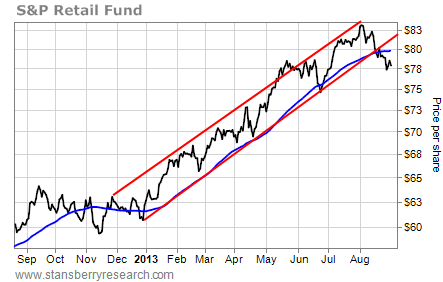 Finally, take a look at this chart of the semiconductor index...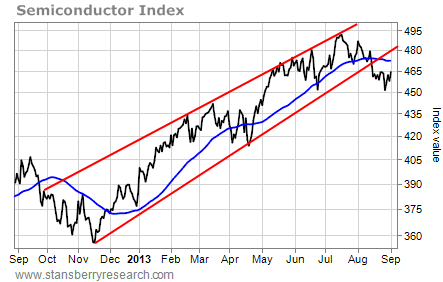 This is the same pattern we see with banks and retail stocks. And that's a problem.
You see, all three of these sectors tend to lead the market. Since they all broke down last week and shifted their bullish intermediate-term trends to bearish, the broad stock market is going to have a tough time holding on to any short-term gains.
The absence of any military action in Syria over the weekend is a short-term positive for stock prices. And stocks are going to bounce. But by the look of these charts, any gains will be short-lived. Stocks still have farther to fall.
Aggressive traders should use a strong bounce to establish short positions.
Best regards and good trading,
Jeff Clark