One of the world's greatest sources of investment income often comes down to finding "price floors."
They're very easy to find. And if you develop the ability to spot them, you can safely generate annual yields of over 15% on a portfolio...
Jeff would know. He's a brilliant investor who has generated millions of dollars in option income for his clients and readers over the years. And he's seen every income strategy in the world.
The safest way to run an option-selling campaign is to focus on stable, blue-chip companies trading for good prices. It's even better to focus on blue-chip companies trading near historically significant "price floors."
A "price floor" is a simple idea. It's a price where a stock becomes cheap enough to draw in a large amount of buying interest. Price floors for blue-chip stocks often exist for years. They exist because large money managers like to buy quality companies for good prices.
When a high-quality company like Coke or McDonald's gets cheap enough, money flows into the stock. Short-term selloffs are met with big-money buying.
This big-money buying interest gives the stock a natural "buoyancy." And it makes for fantastic option-selling opportunities... where the annual income stream can easily exceed 15%.
The beauty of this idea comes down to a unique attribute of selling options. By selling options on your favorite stocks, you don't need them to rise in price in order to profit.
When most people buy a stock, they can only make money if it goes up. They don't make money if the stock trades sideways... which is often the case, even with great stocks. And they lose money if the stock goes down.
But when you sell options, you don't need stocks to rise in price. You simply need them not to fall. That's why top option-sellers look for stocks with a stubborn unwillingness to fall in price. They don't worry about finding stocks with fast growth or hot new products. They just look for stocks that won't fall.
This means we're looking for high-quality companies (usually dividend-payers) trading for cheap valuations. And we're looking to sell put options on these companies when they trade near historically significant "price floors."
For example...
During this time, Microsoft was very cheap, usually trading for less than 10 times earnings. It was earning steady cash flows and paying steady dividends. It also traded near a price floor near $24 per share. This was the area where value-focused buyers stepped in to buy hundreds of millions of dollars' worth of stock.
The strategies (and specific trades) I recommended allowed readers to generate safe income streams of over 17%. We owed these gains to the price floor you can see around $24: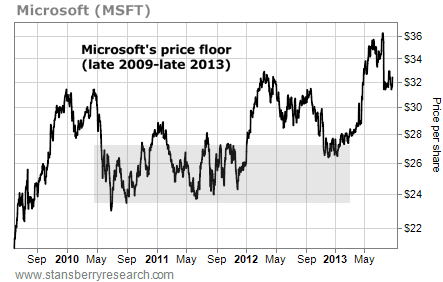 "Price floor" is a concept that belongs to a group of ideas that I call "
common sense technical analysis
." This analysis isn't about predicting the market or making guesses. It's about noting how valuations, fundamentals, and sentiment manifest themselves in the market's price action.
It's an important, extremely useful concept to understand. When you can sell options on blue-chip companies trading for good prices and near significant "price floors," you set yourself up for some of the largest, safest income streams anywhere in the market. You can make money from stocks that achieve the very basic feat of "not falling."
Regards,
Brian Hunt