America's shale gas revolution just took another step forward...
Last week, the Department of Energy (DOE) approved the country's third natural gas export facility.
As I explained in February, recent studies show the huge
economic benefits of exporting natural gas
. It will create millions of new jobs and generate billions of dollars in new income for the government, which is in dire need of more revenue.
Nearly two dozen natural-gas-export projects are awaiting the DOE's approval. I expect at least half of them to get it in the coming months.
It's time to buy in to this megatrend before it's too late. Let me explain...
As regular
Growth Stock Wire
readers know, the U.S. has tapped into huge natural gas deposits over the last five years. Meanwhile,
the world is starving for natural gas
.
You see, the natural gas market is not a typical "global" market, like the markets for crude oil and copper. It's much harder to ship.
Because it doesn't have an extensive transportation network, natural gas prices have their own individual markets. In the U.S., where we have a huge supply, prices are extremely low. But in most countries, natural gas is harder to find, so prices are much higher. As you can see in the map, natural gas prices are 150%-300% higher in other major markets.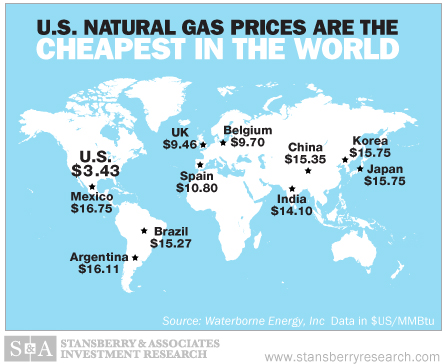 That "spread" has created a tremendous opportunity for our country to export natural gas.
Two years ago, Cheniere Energy was the first company licensed to build a liquefied natural gas (LNG) export facility in Louisiana. The second approval happened in May... when the government gave permission to LNG terminal operator Freeport LNG to export natural gas from its Quintana Island, Texas facility.
The third approval came just last week... The terminal will be built in Lake Charles, Louisiana. Once operational, up to 2 billion cubic feet (bcu) of natural gas will be exported each day to countries around the world.
But these three facilities are just the beginning. I expect more and more facilities to gain approval in the next 12-18 months.
A lot of companies like Westport Innovations (
natural gas engines
), Clean Energy Fuels (
natural gas fueling stations
), and Cheniere Energy (
natural gas exporter
) will start to see the benefits of these approvals almost immediately. But the biggest beneficiaries will be the companies that own and build the infrastructure needed to export natural gas.
A handful of firms have been in this business for over a decade – including Chicago Bridge & Iron (CBI) and KBR (KBR). And in May, I told you to buy these names on a pullback.
We haven't had much luck with getting a pullback with CBI. The stock – which receives more than 30% of its revenue from LNG projects – is trading near its 52-week high.
KBR, however, has pulled back about 10% in the past month. The stock fell after lowering its 2013 full-year earnings guidance. Most of the weakness was due to LNG project delays. KBR gets 40% of its revenues from LNG projects. The company expected to receive contracts in late 2013. It now sees these contracts hitting the bottom line early next year.
I suggest using this pullback to buy shares. The stock is now trading at 11 times forward earnings. That's cheap compared to the average S&P 500 stock – which trades around 15 times earnings. KBR also has a super-strong balance sheet.
The company is a key player in a high-growth market. And based on its strong fundamentals and growth, a larger competitor or private-equity firm may make a bid for KBR.
I wouldn't wait too long to buy the stock. With the DOE likely to approve several new projects over the next several months, it's just a matter of time before KBR receives new contracts. Once this happens, the stock will ramp higher... just like CBI.
Good investing,
Frank Curzio