Gold stocks appear to be turning the corner...
Barrick Gold, the world's largest gold miner, announced an $8.7 billion write-down on its Pascua-Lama project in the Andes. The company also cut its quarterly dividend...
But the stock barely budged
.
It's been a brutal drop this year – both for gold stocks and the metal itself... The price of gold is down from $1,675 an ounce to $1,300 an ounce this year.
The Market Vectors Gold Miners Fund (GDX), which holds a basket of gold miners, is down nearly 50% year-to-date.
But our resident precious-metals expert, S&A Resource Report editor Matt Badiali, noted an important ratio in the gold market is at a 12-year low... And it's bullish for gold stocks.
Matt is simply talking about the price of gold stocks compared with the price of gold. When the ratio is at extremes, big moves happen...
And right now, gold stocks are the most undervalued they've been compared with the price of gold since January 2001. As he wrote in
a recent Growth Stock Wire
...
One measure of value for gold stocks is the gold-stocks-to-gold ratio. This is a simple measure of the ratio of the price of gold stocks to the price of gold. When it gets badly out of whack, big moves happen in gold stocks.
For example, the chart below shows the ratio of the value of the iconic AMEX Gold Bugs Index ("HUI") to the price of gold. When the ratio is very high, it means gold stocks are expensive relative to gold. When the ratio is very low, it means gold stocks are cheap relative to gold.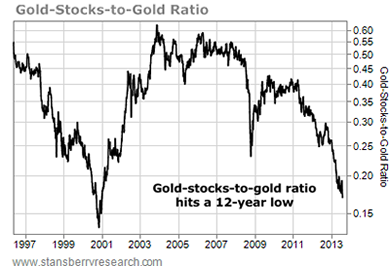 ​
The ratio was at its most extreme in November 2000. After that ratio was reached, gold miners soared 435%. In 2008, another extreme point was reached. Gold miners soared more than 150% in the next 12 months.
We can't know for certain where gold prices will go from here... But the setup for gold stocks is attractive today. It's what's called an "asymmetrical" profit opportunity.
Let's say gold stocks have the potential to fall another 25% (which is highly unlikely, considering how oversold the sector already is)... That means by investing in gold stocks, you're risking an unlikely loss of 25% for the potential to make 100%-plus gains. So your upside is four times greater than your downside. That's a bet we'll take all day.
And on Thursday, gold stocks soared.
The price of gold jumped more than 2% to $1,312 an ounce. GDX jumped more than 8%. The Market Vectors Junior Gold Miners Fund (GDXJ), which focuses on more volatile small-cap miners, was up 9%.
As True Wealth editor Steve Sjuggerud says, the big money is made when things go from "bad to less bad." And that's starting to happen in gold stocks.
If you're ready to "dip your toe" into gold stocks, you should sign up for Matt's
S&A Resource Report
. He travels the world visiting mining projects, looking for the best and safest companies for his readers.
And over the years, Matt has built an incredible network of experts in the resource space who alert him to new opportunities and share their vast knowledge of different projects around the world.
In short, Matt's knowledge of gold stocks – and commodity stocks in general – is fantastic. And in his latest issue – published this past Wednesday – Matt offers a full rundown of the values he is seeing in gold stocks. After analyzing the market for the past month, Matt has boiled the market down to his two favorite buys. If gold holds steady at these levels, gold stocks could easily rally 50%-100%.
A subscription to the S&A Resource Report costs just $39 for one year. Plus, you can try it completely risk-free. (If you decide in the first four months that it's not right for you, we offer a 100% money-back guarantee.)
If we see a rally in gold stocks, you could make a fortune. Learn more about a subscription to the
S&A Resource Report
by
clicking here
. (This will not go to a long video.)
Regards,
Sean Goldsmith