It has been a rough year so far for copper...
The metal is down 20% in 2013. And it looks like it's going to get worse...
Below, you'll find a chart of copper's price action over the last 12 months...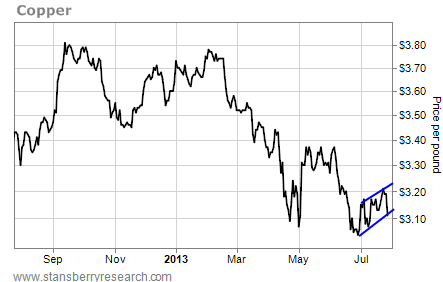 As you can see, copper bottomed in late June. And in the following weeks, the metal put together a series of higher highs and higher lows. This bullish pattern gave long-suffering copper bulls a glimmer of hope. But that glimmer got snuffed out last week when the copper price broke down again, and the chart violated its rising support line.
Copper now looks set to retest its June low around $3.05 per pound, or worse.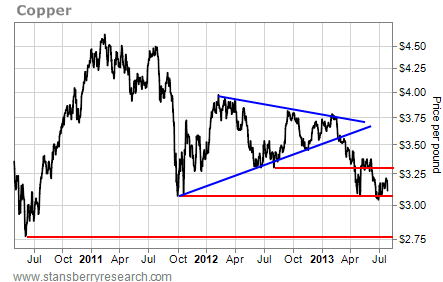 As you can see, the recent bounce off the $3.05 support level looks pathetic. The metal couldn't even rally back up and challenge its previous support level (now resistance) near $3.40. With copper displaying such poor price action, it's unlikely to survive another test of support at $3.05. That brings the $2.80 price target into play.
This isn't the worst news for copper bulls. Let's look at the weekly chart of copper...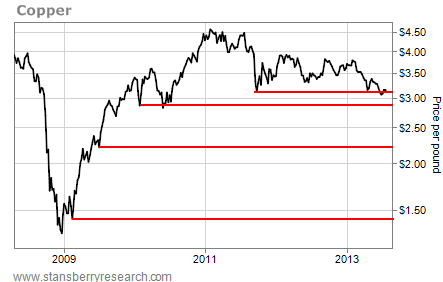 This could be the ugliest chart in the market right now. You can see how important the $2.80 price level is. If copper falls below that price, there isn't much support until the $2.20 price level.
Stock-market investors should pay attention to the price action in copper. Stocks and copper are both viewed as
leading economic indicators
. They rally in advance of an upswing in the U.S. economy, and they fall in advance of a contraction.
But today, these indicators are telling two different stories. Stocks are rallying right now, and copper is falling. This divergence rarely lasts long. Either copper needs to rally to catch up with the gains in the S&P 500, or stocks need to decline to come back in line with the action in copper.
Given how bad these charts look, I wouldn't count on copper playing "catch up" any time soon.
Best regards and good trading,
Jeff Clark