Today, I (Porter) would like to share with you the primary secret of all central bankers... This secret explains why, despite rising wages and nominal economic growth, most people in America continue to get massively poorer.
Though you've probably heard about the concepts I'm going to explain, I'm pretty sure you don't fully understand them. But they're vitally important.
I'm talking about currencies and banking.
The best way to explain this secret is to show you the consequences of these policies. Imagine placing $10,000 in a two-year bank CD. You see this money as your "rainy day" fund to handle emergencies and special purchases.
Two years later, you go to the bank to retrieve your money. When you arrive, the teller explains that instead of having $10,000, you now have just $8,000.
To most people, it's absurd to think that placing money in a "safe" bank account could result in losing 20% of your wealth. After all, every reputable bank has a security department that prevents theft. Plus, you'd probably instantly spot the losses by looking at your monthly statements.
But the truth is, this exact thing happened to millions of Americans from 2006 to 2008. Every $10,000 placed into a conventional, U.S.-dollar bank account in early 2006
was worth 20% less two years later
.
Amazingly, not one accountholder in 100 realized it. Not one accountholder in 100 understood the massive, hidden forces that caused this loss of wealth... which "clipped" 20% from every $10,000 in U.S. bank savings.
These hidden forces exist in the currency market. But most people have virtually no understanding of how that market works. We believe it's vitally important that you have a basic understanding of the currency markets and how governments around the world manipulate them... We want you to understand these forces so you can protect yourself... and even profit from the ongoing corruption of paper money.
Most people believe currency fluctuations don't affect them... or that the whole subject is just too boring to pay attention to. After all, how much can the value of your bank account really swing up and down? The answer is a lot.
Below is a 10-year chart of the U.S. dollar index from mid-2003 to mid-2013. This index measures the dollar's value against a basket of foreign currencies, like the euro and the Japanese yen. It's the generally agreed-upon measure of the dollar's global trade value.
One look at this chart, and you'll see that big moves in the value of your bank account happen more often than you think. Double-digit percentage changes in value are taking place in the span of months... not years.
Again, we state: If you think holding U.S. dollars in a bank account is a boring, conservative idea... think again.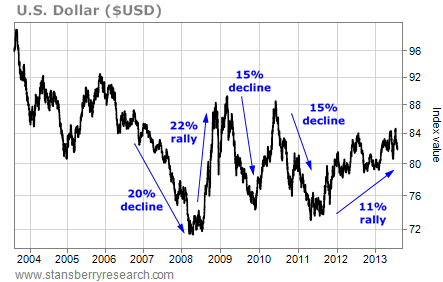 Also... keep in mind that if you buy stocks, what you're really doing is simply moving your wealth out of dollars and into stocks. You are betting that stocks will rise in value versus the dollar. You do the same thing when you buy gold or real estate. You hope the asset you buy rises in value relative to the dollar.
Once again... by simply owning a bank account, you are making a currency bet. The same goes for owning stocks, real estate, or gold. There's just no way to escape the currency market.
Whether you like it or not, you're a currency trader.
Although the hidden forces of the currency market dominate our economy, you probably don't even know they exist. You won't learn about them from your parents. You won't learn about them from your friends. Even business classes at top universities are largely useless for learning these forces.
This is an enormous problem... one that could have catastrophic consequences for your well-being. As the U.S. government's reckless monetary policies kick us toward financial ruin, knowing about these hidden forces could mean the difference between bankrupting your family... or safely making a fortune.
One of my partners at Stansberry & Associates, Dr. Steve Sjuggerud, has studied and written about currencies for nearly 20 years. In fact, his PhD dissertation was about how currencies move.
I've asked him to share his immense knowledge and experience of these markets and forces with you. And he's written a new True Wealth currency "seminar."
In his presentation, he details how these forces work and their impact on every American. He also reveals several unique trades that will allow you to safely build a huge amount of wealth in the midst of currency fluctuations... including what he's calling "The Greatest Currency Trade of the Next 10 Years."
While Steve's recommended trades are related to currency movements, none of them involves risky, leveraged currency bets like most people think of when they hear "currency trade." These trades don't involve traditional currency trades at all (and all but one can be easily made in a conventional brokerage account).
Out of fairness to Steve's
True Wealth
subscribers, we can't say much more about this report here. The most important thing to remember is that big currency moves can cause huge "ripple" effects in your life. There's no escape from currency fluctuations. Even if you own a simple bank account, you are "long dollars." Your wealth is tied to the movements in the U.S. dollar.
Steve understands these forces better than anyone. He knows that stuffing money under your mattress won't save you from these powerful forces. He understands that you must harness the power of currencies if you hope to generate and grow your wealth in the coming years.
We're at a major crossroads in the currency markets. Our government is in a "no way out" situation with its finances. You can't afford to sit on your hands and watch your purchasing power decline.
Fortunately, Steve's new report will provide you with all of the education you need to navigate this market. Reading it will take you less than 30 minutes. At the end, you'll know more than most bankers and MBAs.
We're confident you'll agree the education you get from Steve's research is better than any book or course you can buy. And we believe the recommended trades in Steve's report are absolutely necessary for building wealth in the coming years. We're already receiving tremendous feedback on the report and its educational benefits. Here are just a few things readers are saying:
| | |
| --- | --- |
| • | Never had such a concise explanation about currencies combined with no nonsense usable investment info... thank you. |
| • | Hi Steve, Your article is simply fantastic. |
| • | Hey Steve, great issue, I learned a lot. I really value the educational issues the most. Porter has some great ideas and I love his insights too. I like the idea of having multiple ways to invest in an idea and I feel I understand what I am doing more with the more detailed explanations. I feel this kind of issue has much more value. This one is a keeper to be read again and again. Thanks. |
If you haven't read Steve's report yet, it's easy to get a copy. It's free with a zero-risk, money-back-guaranteed subscription to Steve's
True Wealth
service. We encourage you to sign up, access the report, and learn how to protect your finances. I'm sure you'll learn a lot from Steve's research. I know it will be worth your time. You can get started immediately
right here
. (This does not go to a long video.)
Regards,
Porter Stansberry