After suffering a horrible first half of the year, Royal Gold is starting to look interesting.
It's a potentially bullish sign for gold stocks...
Royal Gold is one of the world's premier precious metal "royalty" firms. Regular readers are familiar with the idea of royalty firms... These companies don't mine any gold or silver of their own. Instead, they finance lots of early-stage mining projects, then earn royalties on mine production if things work out. It's a safer, more diversified way to invest in the gold-mining business than owning a company focused on one big strike.
Like every gold stock, Royal Gold has suffered this year. The price of gold has fallen from $1,685 an ounce to around $1,285 an ounce (a 24% decline). This has produced a huge correction in gold stocks. The benchmark gold stock index fell 50% from its 2013 starting level.
As you can see from the one-year chart below, Royal Gold was slammed. Shares are down from $80 to the low $40s.
Jeff Clark has been keeping readers up to date on
gold stocks
in
Growth Stock Wire
. Right now, nobody wants to own them. Expectations of rough times are "priced in" to most gold companies.
This makes the recent low in Royal Gold – around $40 per share – worth noting...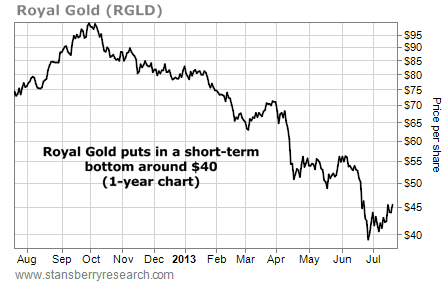 If the stock can hold this level for a while... and move into the mid $40s... it's a bullish sign for the sector. Traders can consider buying Royal Gold – or its fellow gold stocks – and using a tight stop.
If the recent lows hold, the upside for these cheap, hated stocks is substantial. If you use a tight stop, the downside is minimal.
Another market worth watching (and trading) is the Japanese equity market...
The best way to track the Japanese stock market is with the "Nikkei" average. It's the "Dow Industrials of Japan." It tracks the share price movements of major Japanese companies, like Toyota, Mitsubishi, and Honda.
Steve's call was well-timed. The government changeover occurred... massive stimulus efforts are happening... and the Nikkei skyrocketed. It soared 72% from November 2012 to May of this year.
After such a big run, it was only natural for the Nikkei to correct. Remember, markets are like runners. They can't sprint flat out for miles without needing a breather.
The Nikkei did just that in May... and fell from 15,600 to 12,500. Since bottoming around 12,500, the Nikkei has begun a recovery... and more upside is likely on the way.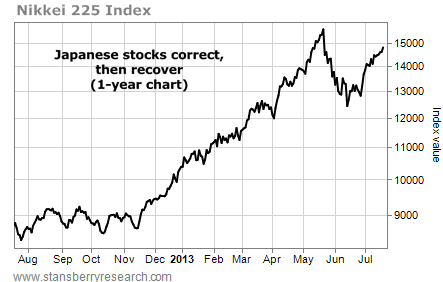 Regards,
Brian Hunt