A "stealth" uptrend we've been tracking for more than a year just hit an important new high...
As longtime readers know, biotech is one of the greatest "boom and bust" sectors known to man... Every few years, it draws in "hot money," fueling a huge run.
Since 1983, the sector has seen four triple-digit runs... and one quadruple-digit run of 1,347% in the early 1990s. The busts were equally spectacular, taking the entire sector down by as much as 70%.
Ride the booms and avoid (or even short) the busts, and you can make a fortune.
A little more than a year ago, we showed you that
biotech had kicked off a new uptrend
. We figured that if the market was going to work higher from there, biotech would lead the way.
As you can see from the chart of the big biotech fund IBB below, the sector has soared higher.
Shares of IBB
are up more than 50% since our note last June.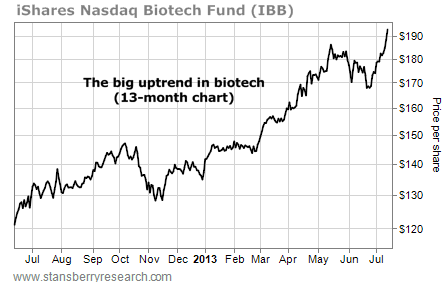 The big picture in biotech still looks great...
Big Pharma companies need to buy biotechs so they can restock their pipelines with new drugs. And money managers need to buy biotechs to get in on the bull market.
But there isn't much supply. In 1999, the last big year for biotech, 63 new "biotech" companies went public. (Like the dot-com boom, many of these companies were only remotely associated with biotech.) Those IPOs raised $6 billion. So far this year, only 16 biotech companies have gone public. They've raised about $1 billion.
According to biotech industry organization BIO, there are 25% fewer biotechs today than there were in 2008.
In short, when the "hot money" comes to biotech, it won't have a lot of choices. It'll drive up the price of the small number of publicly traded biotechs. It'll drive up the price of funds like IBB or BIB (a double-leveraged fund).
Even though the Nasdaq Biotech Index is up 213% since its March 2009 crisis lows, this trend has only begun. You're not reading about the biotech bull market on the front page of investment magazines. They're not talking about it on CNBC.
Biotech is still relatively unknown to the investing public. That means there's plenty more upside here.
– Amber Lee Mason and Brian Hunt