My call was mostly based on surging costs. You see, almost everything miners had to buy in order to get gold out of the ground was getting more expensive. That includes heavy equipment, mine infrastructure, labor, electricity, and fuel.
According to royalty giant Royal Gold, the average cost to produce an ounce of gold was $662 in 2011. Last June, the average cost was $1,000. According to RBC Capital Markets, it costs at least $1,200 to produce an ounce of gold today.
That's an astounding 81% increase in costs in two years.
If you followed my advice last year, you avoided a 50% collapse in the gold sector...
More important, most institutional analysts (like JPMorgan and Goldman Sachs) were not factoring the changes into the earnings estimates. Consensus earnings estimates were adjusted only slightly lower to account for the massive headwinds facing gold giants Goldcorp, Barrick Gold, and Newmont Mining.
Since April, gold stocks have fallen another 15%.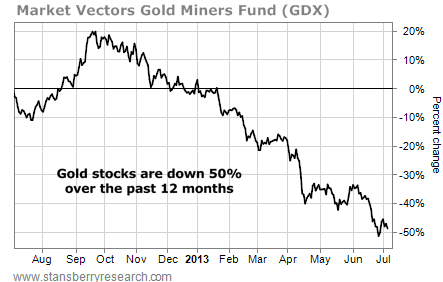 Today, gold stocks look incredibly cheap. The average gold company in the Market Vectors Gold Miners Fund trades at just 11 times earnings. Plus, on a technical level, it looks as if gold prices have finally found a bottom. We could see a big bounce here.
But I still see more pain ahead.
According to Bloomberg, gold producers spent nearly $200 billion on acquisitions over the past 10 years. Many of these large acquisitions – like the $7.1 billion Kinross Gold paid for Red Back Mining or the $7.3 billion Barrick Gold paid for Equinox Minerals – took place in just the past 24 months.
As my colleague Matt Badiali has pointed out,
many of these projects will have to be written down
. This trend has just begun. Bloomberg says that gold producers wrote down $17 billion in projects in just the past 18 months. With the price of gold trading at the same price as production costs,
we could see this number grow fivefold in the next 18 months.
I'm sure many names in the sector will be reporting losses at least over the next few quarters. And even with prices down this much, I don't see this risk factored in to most gold stocks.
My advice is to continue to stay clear of the gold sector. You may see a few bounces –
even a violent rally, like my colleague Jeff Clark is predicting
. But based on the headwinds facing gold stocks – and the billions in write-downs that have yet to be announced – you are better off looking elsewhere to find cheap stocks for the long term.
Good investing,
Frank Curzio