With the market still down from its highs... and "gloom and doom" news in the headlines... it's important for traders and investors to step back and take the "long view."
When we say the "long view," we mean looking at the stock market from a multiyear viewpoint... not just a few weeks or a few months.
Taking this view will help you make more money over the coming months...
Back in November, the benchmark S&P 500 Index had fallen 4% from its highs. Bearish news was dominating the headlines. But as we showed you, in the "long view," stocks were locked in a long series of "higher highs and higher lows."
This simply means each push higher results in higher prices than the previous push (higher highs). It also means each correction stops short of the previous correction (higher lows).
This is the definition of an uptrend. It is classic
bull market price action
. About a week after our note, the market "made a stand," stopped falling, and began a 23% rally.
Anyone who kept the "long view" in mind was able to use the correction to establish positions in cheap, high-quality stocks. The rally that followed handed those traders big, short-term gains.
Today, once again, we're hearing "doom and gloom" from all sides. But many years of trading have taught us that minding the "long view" – the overall trend – is a key component of successful trading.
When sizing up the overall trend in stocks, we see that the S&P 500 could fall more and still stay in its uptrend...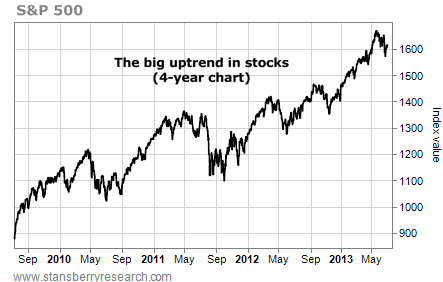 Old market hands say it's reasonable – even healthy – for a bull market to "retrace" 50% of a big gain before heading higher. If the S&P 500 retraces 50% of the gain it saw from its bottom in November to its high last month, it would decline an additional 6.5% to reach the 1,511 area.
We'll keep an eye on that level... But until stocks fall that far, we'll consider the uptrend intact.
Understand, we don't have a bias or an agenda to defend. As we noted last week, some smart folks are
preparing for a crisis-level selloff
. And if the facts change, we'll change our minds. In our
DailyWealth Trader
service, we consider ourselves "mercenaries"...
We'll go to whichever side of the market is offering the most money for the least amount of risk.
While stocks could stay weak and correct in the short term, we're keeping the "long view" in mind. We know big, multiyear trends tend to last longer than most people believe is possible. We know public sentiment toward stocks isn't rosy, which is a positive for stocks.
So we're using this correction to find great opportunities to go long.
– Amber Lee Mason and Brian Hunt