In yesterday's Growth Stock Wire essay, my friend and colleague Matt Badiali explained one reason why gold stocks have been in the dumps lately – and why he believes they have much farther to fall.
But the market often discounts the fundamental viewpoint several months in advance. So the bottom in the gold-mining sector is likely to occur well before the fundamentals turn around.
From a technical perspective, shares still have room to move lower from here. But I also believe the disappointing action in the gold sector last week could be setting up for an even more
violent rally in the coming months
...
Gold stocks had the potential to start a major rally last week. The chart of the Market Vectors Gold Miners Fund (NYSE:
GDX
) had the look of a bullish inverse head-and-shoulders pattern. If it had popped above the resistance of its 50-day moving average (DMA), it could have been off to the races.
But that didn't happen. Resistance was just too tough. GDX failed to overcome the 50-DMA. And that ignited a firestorm of selling pressure that crushed gold stocks and sent
GDX to a new low for the year
...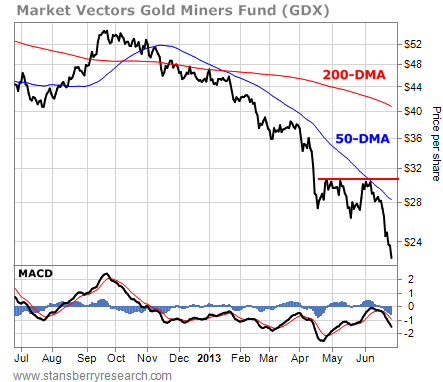 GDX is now trading 65% below its September 2011 peak. And it's a remarkable 43% below its 200-DMA.
This is the type of oversold condition you only see once or twice in a generation. The gold sector rarely strays more than 20% above or below its 200-DMA. Other than the liquidation event of 2008, we haven't seen anything similar to today's conditions since 1976.
Gold stocks, as measured by the Barron's Gold Miners Index (the "BGMI") – the most popular gold index in the 1970s – declined 67% from their 1974 highs to their 1976 lows. The index bottomed 44% below its 200-DMA.
Using 1976 as a guide, there's still room for gold stocks to move slightly lower here. But by that same guide, gold stocks rallied more than 600% in the years following the 1976 bottom. So the sector could explode violently higher once the bottom is in.
There's no way to know for sure when the bottom is in. But a move back above the 50-DMA would be a good sign.
Best regards and good trading,
Jeff Clark
Editor's note:
Steve Sjuggerud also shared his take on the gold-stock sector this morning. He agrees the sector has tremendous upside. But he thinks the recent fall holds an important lesson for investors. Find his essay in
DailyWealth
right here
.