By Jeff Clark
Tuesday, June 25, 2013
It's a correction, not a bear market... yet.
Last Tuesday
, we warned the market was on the verge of changing its intermediate-term trend from bullish to bearish. We just needed to see the S&P 500 drop below its 50-day moving average (DMA) to confirm the switch.
We got confirmation on Thursday.
Take a look at this updated chart of the S&P 500...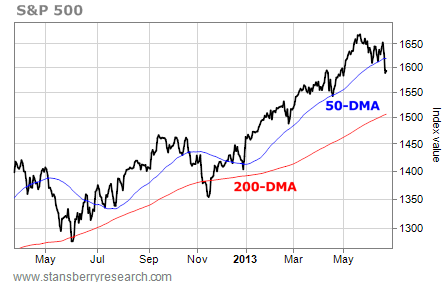 The next downside target is the 200-DMA – which is all the way down near 1,500. That may seem like a long way to fall, and it will wipe out a lot of the gains for the year. But it's still just a correction. Short-term traders can profit on the intraday volatility. We're sure to get some wild swings as stocks bounce violently off extreme oversold conditions... and as those bounces lead to short-selling opportunities.
Swing traders – those with an intermediate-term time frame – should now shift from "buying the dips" to short-selling any rallies that create overbought conditions.
Long-term investors, though, can go back to sleep. The longer-term bull market that began in March 2009 is still in force. The long-term trend won't turn bearish until the monthly chart of the S&P 500 drops and holds below its 20-month exponential moving average (EMA).
Here's the chart...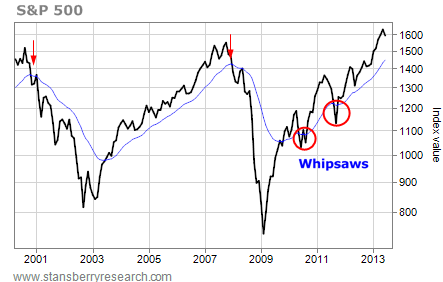 This is an easy chart to read. Except for the "whipsaws" like we saw in 2010 and 2011, when the S&P 500 is trading above its 20-month EMA, it's a bull market. If the index is trading below the line, the bear is in charge.
As you can see, the bear market that began in 2008 started when the index broke below its 20-month EMA (red arrow). Long-term investors had ample time to get out following that breach when stocks rallied back and "kissed" the 20-month EMA from below a few months later. But from there on, it was a straight shot lower as the bear wiped out all the gains from the previous five years.
For now, though, the index is trading above the line.
If you're a short-term or intermediate-term trader, you can now look to profit off the downside as the stock market works its way lower during this correction. Long-term investors who are willing to sit through some downside volatility don't need to worry about anything... at least, not yet.
– Jeff Clark
Further Reading:
If you learn how to identify trends – and when they're changing – you'll set yourself up for a successful trading career. In this brief educational interview, Brian Hunt shows readers how
to safely trade trend changes
with a set of simple, common-sense tools.
Metals are in a bear market... gold, silver, copper, and platinum are all sitting at multiyear lows.
Chinese oil giants PetroChina and CNOOC break down to fresh 52-week lows.
Big uranium producer Cameco
is up 15% from its April lows.
Coal collapse continues
as big coal producer fund
KOL
hits a fresh four-year low.
Symbol
Price

Change

52-Wk
Symbol
Price

Change

52-Wk
Symbol
Price

Change

52-Wk