The stock market is neither bullish nor bearish right now. It's choppy.
Choppy markets are great for short-term day-traders who attempt to scalp profits off volatile intraday moves. But they don't do much for folks trying to trade intermediate-term trends...
We've seen plenty of intraday volatility lately. The Dow Jones Industrial Average moved more than 100 points in one direction or the other every day last week. But it closed yesterday near where it started the month. So there's a lot of movement... But stocks aren't really going anywhere.
This is the sort of action that often occurs before a change in trend – as momentum shifts from bullish to bearish. The quick drops in the stock market increase nervousness among bullish investors. And the sharp rallies shake out anyone who got too short too early.
It's tough to trade a choppy market. Most folks are better off just standing aside and waiting for the bearish trend to develop before trying to go short. That means waiting for the S&P 500 to violate its 50-day moving average (DMA).
For the past six months, the 50-DMA has been the support line for rising stock prices. Take a look...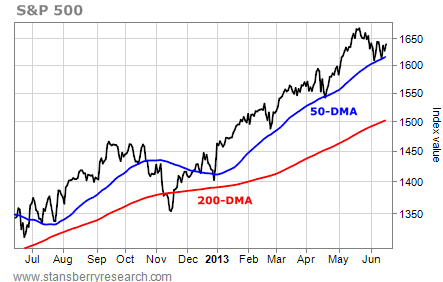 Each time stocks have come down and tested the 50-DMA (the blue line on the chart) this year, the market has bounced back. It happened again last week. So we still can't rule out another push higher and another attempt for the S&P 500 to make new all-time highs.
And we can't be sure that stocks have entered an intermediate-term correction until the S&P 500 drops below the support of its 50-DMA. So it's still too early to get aggressive with short sales.
But once the 50-DMA fails, the next support level is all the way down at the 200-DMA (the red line) near 1,500.
That's what makes the short case so compelling right now. And it's why it's dangerous to add any long exposure today. The distance between the 50- and 200-DMAs is the largest it has been all year. A small break of support at the 50-DMA could lead to a large decline.
– Jeff Clark