To find the best, most profitable setups, commodity traders have to watch for "black death pessimism."
These assets are a "pass" in my book.
They're all down 30%-50% in the last two years. They're a heck of a lot cheaper than they were in 2011. Still... there's been no "washout" bottom that leads me to think we've hit screaming bargain levels. Folks haven't totally given up on them yet.
But there is one natural resource sector that has reached a "washout" bottom. And it continues to look good from a "common sense technical analysis" perspective...
Uranium is the fuel that runs nuclear power plants. Like most every commodity, uranium is capable of experiencing huge busts... and huge booms.
Get into the booms early and avoid (or even short) the busts, and traders can make a fortune off the stuff.
As we've described several times in these pages, it was all
bust for uranium
after Japan's nuclear disaster. This disaster produced a huge short-term selloff. It also caused several countries to shelve nuclear programs. This news produced more declines for the fuel.
In November 2011, prices struck multiyear lows. Shares of uranium explorers and producers were crushed. Cameco (NYSE:
CCJ
), the "ExxonMobil of uranium," fell 61% in less than a year. Smaller, less-established firms fell even more.
In other words, there was a big wipeout in the uranium sector. That's why contrarians looking to
buy very cheap assets
are interested.
Also, a little "common sense technical analysis" tells me that uranium is still a low-risk buy right here.
When I say "common sense technical analysis," I mean we can see all the fundamentals and investor sentiment manifested in a single, simple chart. Let me show you what I mean...
Below is a chart of Cameco since early 2011. You'll see how the Japanese disaster acted as a "guillotine" on the stock. It sent Cameco all the way down to $16 per share.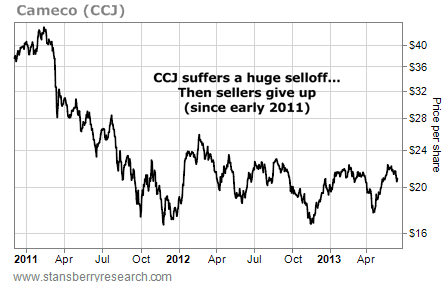 Now note how the stock traded sideways for the past 18 months. This tells us that the sellers of the stock have been exhausted. Most folks have simply given up in disgust.
Not many resource sectors look like this. They're not at ideal buy points because they have not reached "washout" bottoms. There are still hearts left to be broken.
But when it comes to uranium, the hearts were broken in late 2011. The sellers are exhausted... and the path of least resistance is up.
– Brian Hunt