It was another rough week for owners of "China-focused" assets.
Asia suffered a large selloff on news that the Japanese central bank is sticking with its current stimulus plans. And China's economy is slowing down. This reduces demand for basic commodities like iron ore and coal.
Brazil is a major commodity supplier to China. Its economy is tied to China's hip. The major Brazilian investment fund – iShares MSCI Brazil Capped Index (NYSE: EWZ) – is getting crushed. It's down more than 16% in the past three months. And last week, it struck its lowest low since 2009...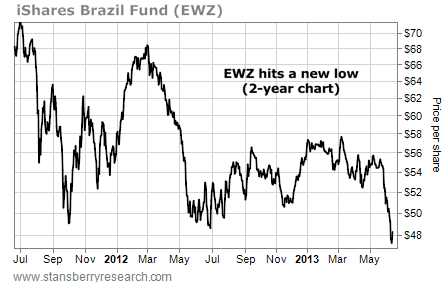 Meanwhile, giant miners Rio Tinto and Peabody Energy reached new 52-week lows. And China's massive state-owned oil company, PetroChina, hit a new 52-week low.
As if owners of China-focused assets didn't have enough to worry about, credit-ratings firm Fitch Ratings just issued a report that warned against China's giant, unregulated "shadow banking" sector. The news service Reuters reports...
China has tens of thousands of non-bank lenders that are providing increasing amounts of credit to businesses and government outside the mainstream, regulated banking sector, a situation that is stoking systemic risk, Fitch said.
There is little visibility on where the money is going, who is lending it, or what the credit quality of assets is, meaning traditional warning signs of trouble will not function properly.
"It is a wild-west atmosphere in many respects and that is one of the reasons why we are so worried," Fitch Senior Director Charlene Chu told a conference in Frankfurt.
So... you have the world's second-largest economy (China) running a giant, complex, unregulated banking scheme. We know China's government statistics are fictional. And we know the companies that supply the country with its raw materials are suffering big sales declines and falling share prices.
Meanwhile, the Western world's central banks are flooding the system with liquidity on a scale we've never seen before.
The old Chinese curse goes, "May you live in interesting times." Between China's complexity and corruption... and the Western world's grand monetary experiment, it's safe to say we're living the curse.
But when the going gets tough, the tough can always go work for the government. As Dorothy Dugger can tell you, it's a nice racket...
The Associated Press reports that Dugger, a California Bay Area Rapid Transit (BART) employee, earned more than $330,000 last year... despite not working one day for the public agency last year. The AP reports...
Dugger, 57, cashed in nearly 80 weeks of unused vacation time, drawing paychecks and full benefits. During that period, she earned nearly two extra months of vacation, received management bonuses and medical insurance, and boosted her pension benefits by more than $1,000 a month for life.
When she left BART's payroll in December, she began to draw an annual pension of $181,000, according to the newspaper.
Dugger said she was entitled to the money because she earned more than 3,100 hours of unused vacation time during two decades with the light-rail agency.
"It was time I earned my whole career at BART," she said. "It's a cost of having the option" to save the vacation until the end of a career, she said.
The value of her unused vacation days soared after she took the top job in 2007 and received a raise of nearly $100,000 a year because the unused time-off was paid at her final, highest pay rate — not her rate when the time was accrued, records show.
Some taxpayers are outraged with Dugger's gaming of the system. But we guess just as many are angry that they didn't think of it first. As we've covered many times, this is the silent war being fought all over America. It's the tax receivers versus the taxpayers. And the tax receivers are enjoying a blowout victory.
It's no wonder shooting for a fantastic government-employee pension is so attractive. Public employees' pensions are backed by the government, which we know is happy to raise taxes and print as much money as it needs to keep the masses happy. Meanwhile, private companies need to actually fund their pensions. And those private corporate plans are in jeopardy.
A recent story from the Washington Post
highlights how many companies are being forced to close down their pension plans.
The reason? Pension obligations are calculated using the future value of money, which is pegged to the interest rate on corporate bonds. But because Federal Reserve Chairman Ben Bernanke has driven interest rates to historic lows, these future pension obligations have now skyrocketed... making it unfeasible for many companies to keep offering this perk.
While most of us don't have pensions, the other income alternatives aren't much better, either. For example, the latest data on 10-year Treasurys shows a yield of 2.09%.
So where can you turn nowadays for yield? Well, you might want to look into the alternative investment our colleague Tom Dyson recently discovered.
In short, it's a tax-free account that pays out four to five times more than long-term CDs. It's also completely "off Wall Street"... in that you don't have to report to the IRS. But chances are, you've never heard of it before. That's because government heavily restricts the advertising of these accounts, although at least six U.S. presidents (including John F. Kennedy and Franklin Delano Roosevelt) had one.
As a result, only an estimated 0.07% of the population (one American in 1,500) has an account. Tom put together a special (and free) video that explains what he learned about this underground investment. He was so impressed with the data he gathered that he's now put 20% of his personal wealth into this single idea. He also put together a video where you can learn more about opening one of these high-yield, off-the-grid savings accounts. You can
click here
to watch it.
Regards,
Brian Hunt
Editor's note
: The Weekend Edition is pulled from the daily
S&A Digest
.