Back in the days when stocks used to go down as well as up, traders would look for and pay attention to "divergences" in the market.
Divergences occur when things that normally run together start going in opposite directions. They're early warning signs that signal a trend may be ending. And being able to spot them has always been a necessary skill for anyone trying to make a few bucks as a trader.
But nowadays, with the stock market only moving in one direction, most investors believe spotting divergences has become more amusing than useful. Like darning socks or shoeing horses, folks just don't seem to have much need for it anymore.
But even in this period of perpetually rising stock prices, old-timers like me are still watching for divergences. That way, when the market does finally fall – and it will fall – we can wag a finger at the youngsters and say, "Some things never change."
Here are some of the notable divergences that stand out today...
First of all, take a look at this two-month chart of the S&P 500...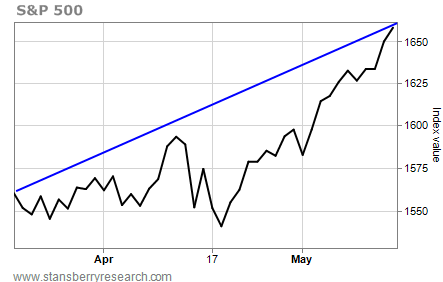 The index is up 7% in two months. Over the past three weeks, we've seen a near vertical run higher with only a couple minor down days.
But unlike the S&P 500, copper is down 7% in the past two months. This divergence is notable since stocks and copper almost always run in the same direction.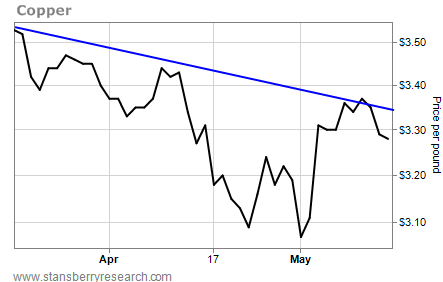 The Volatility Index (the "VIX") is also showing some divergence... but in a slightly different way...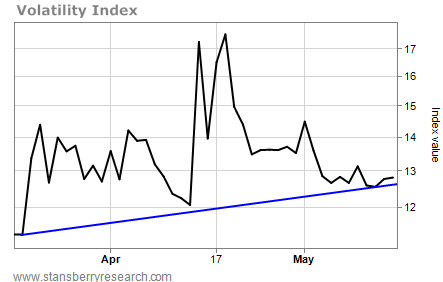 The VIX usually falls as stocks move higher. But over the past two months – as stocks have rallied – the VIX has gained 10%.
It's not – which is at least a curious divergence.
Finally, here's a divergence for the economists...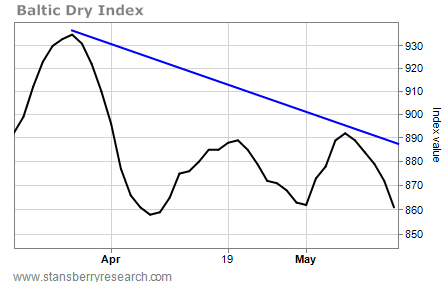 The Baltic Dry Index reflects the cost of shipping dry goods overseas. If the stock market is rallying because the economy is improving, as some analysts argue... then the BDI should be pressing higher to reflect increasing demand for shipping goods. But the BDI is down 5% since late March.
Maybe divergences don't mean anything anymore. The market has definitely ignored them over the last couple months.
Then again... some things never change. And I still recommend caution in stocks right now.
– Jeff Clark