It doesn't take long for a biotech bull market to gain weight...
Regular readers know that we consider biotech to be one of the greatest "boom and bust" sectors in the market. With its promise of individualized medicine, cancer cures, and miracle drugs, few sectors capture imaginations and speculative money as well as biotechnology.
As Steve Sjuggerud says, "If you catch just one biotech bull market in your lifetime, you may never have to work again."
Biotech stocks took a breather
last November
, but we told you "the long-term bull market is still in force." And last month, we showed you the
biotech boom was still intact
. Since that essay, 21 trading sessions have passed by. During that time, the double-long ProShares Ultra Biotechnology Fund (NASDAQ:
BIB
) has gained an amazing 22%...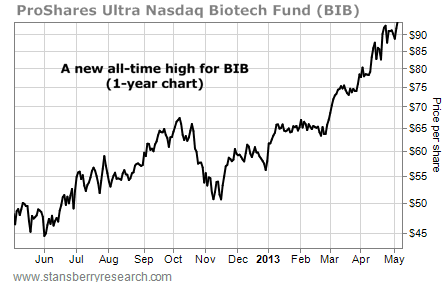 What's driving this bull market?
Several impressive clinical results have boosted share prices... and ignited interest in the sector. Vertex, for example, is one of BIB's top 10 holdings. It recently reported positive data for a cystic fibrosis drug. Shares skyrocketed more than 60%. Other big names – like Gilead, Amgen, and Celgene – are hitting all-time highs.
If you've taken our advice and taken a position in biotech, stay long. Although the sector is a little "overextended" to the upside... and although it has registered huge gains in the past year, we need to keep in mind that biotech bull markets often run much, much higher than anyone thinks possible.
Also, few people are talking about biotechnology. This bull market is not front-page news... But it will be.
On the subject of "big trends" that we discussed last month, a more conservative trend we like is also taking off. It's the uptrend in insurance stocks.
Our colleague Porter Stansberry has done a fantastic job educating readers on how great the insurance business can be. These companies collect premiums from their customers. If they're good at what they do, the premiums exceed what they'll end up paying out in claims. And in the meantime, they get to invest all that money and earn more profits.
The "set it and forget it" diversified vehicle of choice here is the iShares Insurance Fund (NYSE:
IAK
). This fund holds large insurance stocks like AIG, Travelers, MetLife, and Progressive.
Last week, AIG announced its first-quarter results. It said all the right things for Wall Street... and the stock popped 6% to reach a 52-week high. This helped lift IAK to a fresh multiyear high.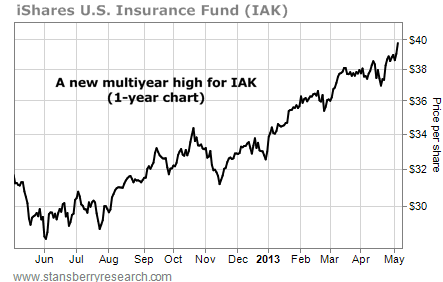 As we expected, it's a bull market in insurance... so stay long.
– Brian Hunt