The majority of the nation's 18-wheeler truck fleets will be fueled by natural gas in seven years
.
This is what billionaire energy investor T. Boone Pickens told the New York Times last week. Pickens has been pushing for natural gas as a transportation fuel for decades.
Over the past few years, his arguments have started to make more sense. New technologies have helped the U.S. uncover
a massive supply of natural gas
.
That pushed prices down and made it economical for transportation companies to switch from diesel to natural gas.
But if Pickens' forecast comes to fruition – and I expect it will – these stocks still have massive upside potential.
Companies like UPS, Wal-Mart, and Waste Management are already switching their fleets to run on the clean fuel. Recently, apparel giant Nike and consumer staple Procter & Gamble announced they will use natural gas to power their fleets.
But there are millions of 18-wheeler trucks on the road in America. And only a few thousand have made the switch. Even if Pickens' forecast is half-right, that's great news for Westport Innovations (NASDAQ:
WPRT
).
Westport makes the technology that allows engines to run on natural gas. And my subscribers have made big money trading in and out of the volatile name.
In April,
I visited the company's headquarters
. I rode in one of Westport's own tractor trailers fueled on natural gas. The truck had as much power as one running on diesel (and the ride was pretty smooth, too).
CEO David Demers told me about the huge demand Westport is seeing in America... But the bigger story is the massive opportunity for natural-gas-fueled trucks in China and Europe – where the company has partnerships with the biggest engine manufactures.
China's trucking market is 10 times the size of ours. And trucking industry experts project 5% of the millions of heavy-duty trucks in Europe will run on the clean fuel by 2015.
In my last essay, I said to hold off buying Westport. The company is seeing short-term margin pressure as it spends extra money to launch its new natural gas engine. And its stock has suffered, falling well off its highs.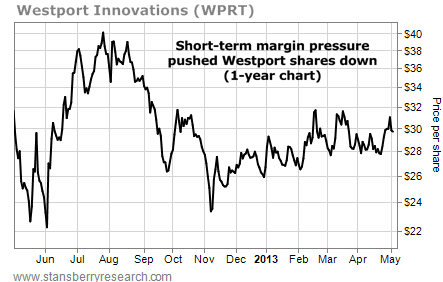 But the demand the company will see for its natural gas engines in the years ahead is too large to ignore.
I suggest scaling in to Westport today. That means take a small position now... and build up a full position over time.
Another major winner of the natural gas boom is Chart Industries (NASDAQ:
GTLS
). Regular readers should be familiar with this name, too... The company is one of the top suppliers of liquefied natural gas (LNG) fueling tanks in the world.
My subscribers are up over 40% since I recommended Chart Industries in early 2012. And the stock just broke out to an all-time high. But there is much more upside ahead.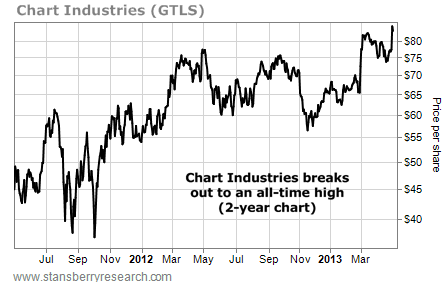 As I explained above, more and more fleets in the U.S. are switching to natural gas. That means more fueling stations will be built using tanks supplied by the company.
Over the past few weeks, two major research firms upgraded Chart Industries. They see huge demand ahead for its LNG storage tanks not just in the U.S., but in China and Europe as well.
I suggest buying Chart Industries on any weakness – and holding for the long run.
– Frank Curzio