Some critics of our current monetary system will tell you that it tends to make speculators out of everyone...
After all, our current monetary system allows the Federal Reserve to "bail out" folks who make terrible lending and borrowing decisions... And the argument goes, if you can't trust the government to maintain a sound currency, you're less likely to park your savings in that currency. You're more likely to make risky bets on stocks, real estate, and bonds. Less sophisticated people are more likely to gamble with their money in lotteries and casinos.
That's the theory... But let's consult the market to see if it's working in real life...
Let's look at the Market Vectors Gaming Fund (NYSE:
BJK
). This fund is a broad bet on the world's largest casino and gambling stocks. Its largest holding is mega-casino-operator Las Vegas Sands.
As you can see from the one-year chart below, the world is flocking to the tables.
Like most assets, the BJK sold off in mid-2012. Since then, it has staged a big recovery and just struck a new multiyear high. It's a bull market in gambling... one that should run higher from here.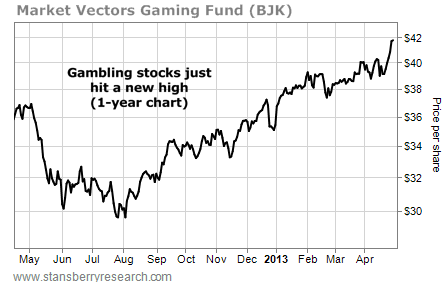 As several S&A analysts have been pointing out, another effect of the Fed's "E-Z Credit" program is that it creates
a great environment for banks
.
Due to the 2009 government bailout, many big banks are in good financial shape. And with credit so readily available, banks are able to borrow money cheaply... then lend it out at higher rates.
They have the Fed "tailwind" at their backs. Plus, many bank stocks are still cheap.
As you can see from the chart below, bank stocks are moving in our direction. The major financial stock fund (
XLF
) sat at $16 per share last fall. Now, it sits at a new multiyear high of $18.57. Expect Fed policy to drive this bull market higher.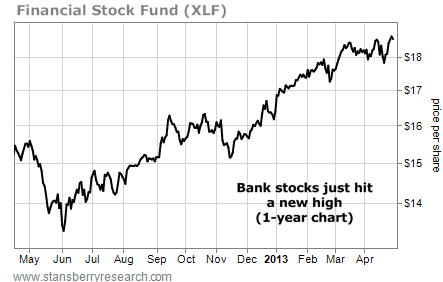 – Brian Hunt