Get out.
Don't wait for it to get better. Don't try to pick the bottom. Don't look for cheap stocks. Just get to the sidelines... because it could get worse.
Over the last few weeks, gold stocks are down 25%, as measured by the major gold-stock index (the "HUI"). As you can see in the chart below, it's a full-blown crash...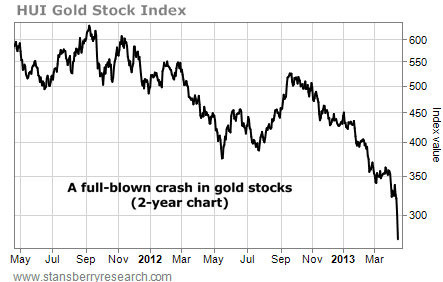 Investors are bailing out of gold stocks in droves. The stocks have gone from cheap to crazy-cheap. They've gone from oversold to crazy-oversold. And if you're a contrarian type, that has piqued your interest.
But the crash probably isn't over yet.
We saw this kind of thing before, back in 2008. Gold stocks can fall much farther.
In March 2008, the HUI topped at 515. In October 2008, it bottomed at 151. That's a 71% decline in just seven months. If we touch a similar low, the index will lose another 44% from here.
It doesn't make any sense to risk more cash now, when a 44% loss is a possibility. Get clear, preserve your cash, and
wait for prices to stabilize
and even rise a bit higher before you buy. This will give us "price confirmation" that the selling pressure has been exhausted.
It was the "valley of death" for natural gas producers...
Last April, U.S. natural gas producers were getting $1.89 per thousand cubic feet (mcf) of natural gas. It was a huge 67% decline in the price of natural gas in just over two years... And it was the lowest price since August 1992.
These days, natural gas is up 122% above last April's lows. It's going for about $4.20 per mcf. With prices up, natural gas producers are in much better shape... But many of them still look cheap. So I went searching for companies that managed to continue paying investors through the tough times.
If you can keep churning out cash even when prices are at multi-decade lows, you must be doing something right...
One notable name that came up is Encana (NYSE:
ECA
), a $13.7 billion bellwether natural gas producer operating in Canada and the U.S. Even through 2011 and 2012, Encana kept on paying its quarterly dividend of $0.20 per share. At its lowest share price, that amounted to a 4.6% yield.
But here's the thing... Encana didn't generate enough cash flow from its natural gas operations to fund both its dividend and its capital expenses.
Encana owned huge tracts of land, producing oil wells, pipelines, and other assets. In 2008, the company owned $37.32 of these assets per share. But as natural gas prices fell, the company sold these assets to raise cash... From 2010-2012, Encana generated $7 billion selling assets.
Take a look at the chart below. It's Encana's book value from 2004 to the end of last year. The value of Encana's assets rose as natural gas prices rose... and they fell as natural gas prices fell. From 2010-2012, it wrote down $7.4 billion of its book value.
But with Encana selling expensive assets at rock-bottom prices, the book value has fallen much more than it should.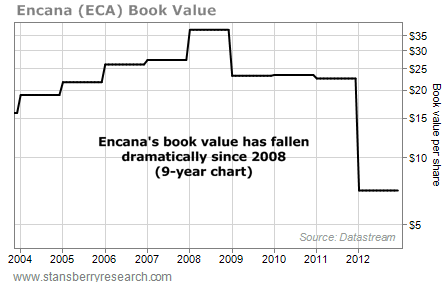 This is critical information for investors. Even though Encana maintained its dividend, it did so at a stiff price.
In 2010, Encana's tangible book value (excluding goodwill) was $15 billion. And its enterprise value was $29.9 billion. That means real assets anchored about 50% of a shareholder's investment.
Today's enterprise value is $18.4 billion and its tangible book value is $3.6 billion. That means real assets only anchor about 19% of a shareholder's investment now. And that makes this stock less attractive to value-seekers.
Yes, Encana maintained its dividend through the worst of times... and it has more cash in the bank now than at any time since 2010. But it had to loot the company. And that only works for so long.
If you're value-hunting in natural gas, I'd avoid Encana.
– Matt Badiali