On Monday, I met with David Demers, the founder and CEO of the world's largest manufacturer of natural gas engine technology, Westport Innovations (WPRT).
"Most people don't get it," Demers told me. "Natural gas as a transportation fuel is here to stay."
As longtime readers know, we began publishing reports on this idea in early 2011... To recap, America's glut of natural gas has caused prices to collapse to near-historic lows. As a result, it's now significantly cheaper to run heavy-duty trucks on liquefied natural gas – "LNG," for short. The U.S. is now developing the infrastructure required to support a booming natural-gas-fueled vehicle market.
I've shown you how it's going to make household names out of a few little-known energy stocks –
including Westport
.
Demers started Westport in 1995. The company has partnerships with just about every large engine manufacturer and truck producer in the world. He knows first-hand how much the industry has evolved in the last 18 years...
Ten years ago, Demers explained, city buses and garbage trucks began adopting natural gas as a transportation fuel. Over the past five years, blue-chip giants like Wal-Mart, Coca-Cola, and UPS began switching their fleets over to natural gas.
"What we're doing now is focusing on the next leg of this trend," he said. That involves innovating products for businesses beyond just trucking companies that want to take advantage of the cost savings associated with using natural gas as a fuel.

Today, Demers is getting calls from the major railroad companies that are now interested in natural gas. The industry can save a ton of money using natural gas instead of diesel to fuel its 100,000-plus locomotives.
In fact, these rail companies are discussing how they can carry large amounts of LNG while traveling. This way, they can fuel their locomotives – without building natural gas fueling stations along their routes.
Demers also sees a massive opportunity in China and India...
China's truck market is 10 times the size of America's. Westport has a joint venture with Weichai, the largest engine manufacturer in the country. Together, they develop, manufacture, and sell alternative fuel engines for use in cars, city buses, and heavy-duty trucks. Its technology is protected by special patents specifically for the China market.
Right now, Weichai is integrating Westport's technology to design a new engine that delivers the same performance as the original diesel engine. It will fill the gap in the natural-gas-engine market for heavy-duty trucks in China. According to the company's 2012 earnings statement, it's on track for release in China's market later this year.

India's government reached out to Westport (NASDAQ:
WPRT
) to improve its cell phone towers... By 2015, there will be 1 billion cell phone users in India. To power this booming industry, the country desperately needs cleaner energy. Right now, about 500,000 mobile phone towers – nearly one-fifth of the total – are being powered completely or in part by diesel fuel. They're located in places off the electric grid.
Westport's natural gas technology will help to create a consistent and reliable power supply to the phone towers.
Westport has been a big winner for my
Small Stock Specialist
subscribers. We closed out of our first position last April for a 116% gain in 16 months. We got back in a month later on a huge pullback. And in September, we sold out of our position for an average gain of 49% in less than four months.
We don't currently hold Westport in the
Small Stock Specialist
portfolio... And I'm not ready to re-recommend it just yet.
It's too early to buy shares
. A few weeks ago, Westport reported disappointing financial results. It had higher-than-expected costs and lower-than-expected margins.
Long term, the company has tremendous growth potential as natural gas becomes a larger share of the transportation market. In the short term, I think we can get a better price.
Take a look at the chart below. It shows the price action in Westport shares over the past 18 months...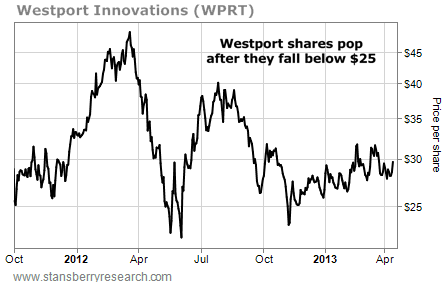 Right now, Westport is trading around $30. As you can see, every time the stock has dropped below $25 per share, it usually pops higher...
Last May, for example, Westport had fallen below $25 on a weak earnings report. Just two months later, shares had climbed to $40 – a 60% gain.
I want to see next quarter's results before I re-recommend the stock. If results disappoint, we could have a great buying opportunity.
– Frank Curzio