Last week, we studied two big uptrends...
biotech and insurance
. Hopefully, readers have taken our advice and are sitting on profits right now.
Today, we look at one big downtrend. It's a downtrend that should worry just about anybody. It's the relentless downtrend in the value of steelmakers.
Despite all the innovations in smartphones, medicine, and media, the world is still built on a foundation of steel, concrete, and other vital building materials. Factories, cars, appliances, bridges, and construction equipment all require some type of steel.
It's approximately a $1 trillion industry. (For comparison, the pet-care industry is just $50 billion.)
Over the past few years, the steel industry has faced a sluggish worldwide economy and excess production capacity. This has caused prices to fall more than 30% from their pre-financial crisis levels. It's also producing big losses for large players like ArcelorMittal (NYSE:
MT
).
ArcelorMittal is the
world's largest public steelmaker
. As you can see from the chart below, the stock has declined from $45 to $12 in just the past few years. Last week, shares struck a new 52-week low... which is even lower than the panic 2009 low.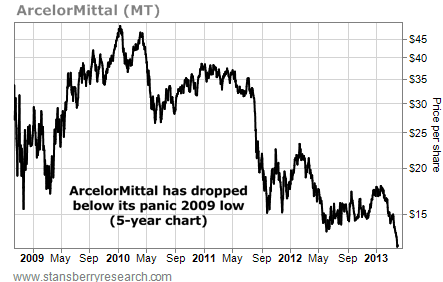 ArcelorMittal is one of many steelmakers reaching fresh multi-year lows. Other large steelmakers U.S. Steel (NYSE:
X
), Gerdau (
GGB
), Mechel (
MTL
), and POSCO (NYSE:
PKX
) are plummeting.
POSCO is a favorite of many knowledgeable institutional investors. It's considered a "best of breed" steel stock. As you can see, even its elite status isn't saving its shares. Like ArcelorMittal, POSCO reached new multiyear lows recently.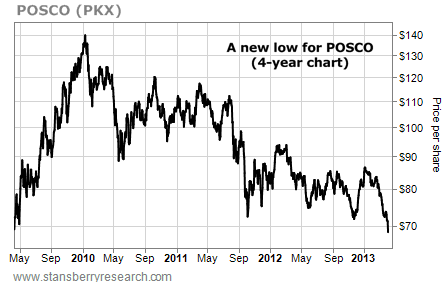 What are you to make of all this?
Keep in mind that much of the steel industry's problems are of its own making. Countries like to boast
strong national steel industries
. It's seen as a "strategic" necessity... Too much production capacity has been subsidized and built.
And by itself, the horrible steel bear market is not cause to sell everything and expect a recession. But this severe plunge should also raise some red flags. It could be an early warning sign that the global economy is getting weaker and weaker. Is the "China wreck" that many bears expect taking place?
We can't know. Right now, it's simply worth monitoring. It's also important to remember that steel is a cyclical "boom and bust" industry. If the economy holds together, the steel industry will bottom... and these beaten-down stocks will double and triple in a matter of months, not years.
More on this situation to come in future editions.
– Brian Hunt