Steve Cohen, the billionaire founder of hedge fund SAC Capital, is gearing up for inflation...
As we've discussed many times in these pages... high-quality, prestigious assets – what we call "
trophy assets
" – tend to escalate in value during periods of high inflation. That's one reason Porter has invested in Miami Beach real estate.
Cohen's buying high-end real estate, too. He recently purchased a $60 million beach home in the Hamptons – the playground of New York City's elite. It's his second Hamptons house. He also owns two apartments in Manhattan – one is estimated to cost $115 million.
In addition, Cohen is also one of the largest players in contemporary art. His collection is worth an estimated $1 billion. He paid music and movie billionaire David Geffen $139 million to buy the piece "Woman III" by the artist Willem de Kooning. In 2010, Cohen bought "Flag" by the artist Jasper Johns for around $110 million. In 2007, he purchased "Turquoise Marilyn" by legendary "pop" artist Andy Warhol for around $80 million.
But his latest acquisition tops them all, and comes in the same week as his Hamptons house purchase... Cohen bought Pablo Picasso's "La Reve" from casino mogul Steve Wynn for a reported $155 million.
Coincidentally, one of the first pieces I published at S&A was about "La Reve"... And how Wynn accidentally elbowed a hole in the painting in 2007. (He paid $85,000 to repair it.)
The highest-quality real estate, art, wine, and other collectibles always have a market with the ultra-rich. Regardless of what is happening in the economy, these billionaires have cash. And they're always ready to purchase a one-of-a-kind asset (especially when it doesn't trade hands often).
The ultra-wealthy are looking to preserve their wealth. And with the threat of inflation looming, art and real estate are popular options.
But Cohen may have other motives for bulking up his art collection... As Porter explained in the February 14 Digest Premium... art and other collectibles are also a great way to protect your wealth from the IRS. From Digest Premium:
Owning collectibles offers one major advantage – one that I think drives 90% of the demand for collectibles: It's a great way to protect your wealth from the IRS. People know that when they die, the IRS won't have any idea what is hanging up on their walls or hiding in their vaults. So they hide money in these trophies to give to their children to avoid estate taxes.
Mind you, I'm not passing judgment on these actions, nor am I recommending them... I just believe that's why a lot of demand for collectibles exists.
Collectibles are also easily transferable across borders. You can take a Picasso on a private jet and move $100 million offshore. And no one even knows you have it.
When you buy collectibles, you're betting on the irresponsibility of the government and the wickedness of the tax system... If the government gets more irresponsible and the tax system gets more heinous, you'll probably do well. And I think that's a good bet. But you should understand that's what you're betting on.
Gold stocks peaked in September 2011 (around the same time gold hit its all-time high of more than $1,900 an ounce). They've been in a grinding bear market since then... Look at this five-year chart of the Market Vectors Gold Miners Fund (NYSE:
GDX
)...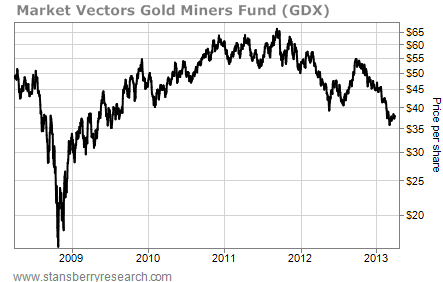 Throughout this downturn, many financial pundits – including several of us here at Stansberry & Associates – noted how
cheap gold stocks
were relative to the price of the underlying metal. Still, gold stocks continued their decline as selling begat more selling.
Almost every day, a friend or subscriber contacts me about gold stocks, asking when they're going to bottom. It happened again earlier this week. Based purely on sentiment, it seems like we're reaching the "puke point" in gold stocks.
Nobody can know that answer for sure. But two of our top editors, Porter Stansberry and Jeff Clark, believe the bottom is coming soon. And they're basing their opinions on their decades of experience and financial analysis.
In Porter's latest issue of his
Investment Advisory
, he wrote...
Compared with the value of their gold production, gold stocks, as a whole, are as cheap today as they were at the bottom of the gold-stock market during the crisis of 2008.
Back then, we recommended buying a basket of gold-mining stocks (GDX) to take advantage of this very unusual situation. ... That recommendation doubled speculators' money in about a year. (We eventually closed the position in May 2011 for a 91% gain.)
Right now, the market cap [of the gold stock I recommended] is 32% less than the value of its assets... discounts this steep in the share price have happened only seven other times since 1994. The average return 12 months later if you bought in these dips is more than 50%.
And Jeff is going long gold in his
S&A Short Report
and
Advanced Income
newsletters... In fact, Jeff named buying undervalued gold stocks and selling calls against them his "top trading idea for 2013."
And in a recent issue of the
S&A Short Report
, Jeff said the technical buy signal for gold stocks is finally here...
It took a few months, but we finally got a gold-stock buy signal. Take a look...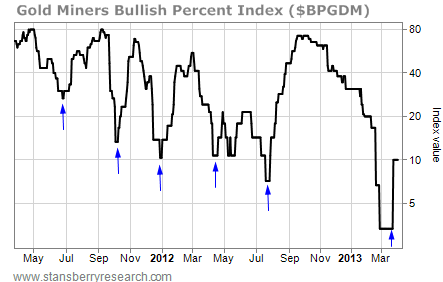 Buy signals occur when the gold sector bullish percent index (the BPGDM) dips into oversold territory – below 30 – and then turns higher. The blue arrows on the chart show each of the buy signals over the past two years.
This next chart shows how the Market Vectors Gold Miners Fund (GDX) performed following each of those signals...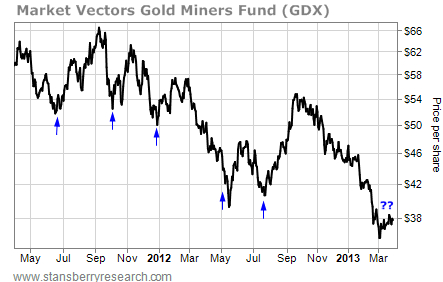 Four of the five previous BPGDM buy signals immediately marked important intermediate-term bottoms for gold stocks. GDX shot higher, with 15%-20% gains in just a few weeks following the "buy" signals. The signal last April was an exception. GDX dropped even lower after the BPGDM turned higher. But the gold sector bottomed a couple weeks later... And the signal turned profitable within a few weeks.
So I like the odds of adding more exposure to the gold sector here.
If you want to invest in gold stocks, which advisory should you read?
Without a doubt, John Doody is the best gold-stock analyst we know. He used to be a college economics professor. But he wasn't getting wealthy there... So he dedicated the next several years to studying the markets – and where he could make the most money.
John eventually developed a proprietary method for investing in gold stocks. And it's made him a fortune. He now has a Ferrari, a yacht, international vacation homes, and a 10-figure net worth.
Of course, we can't share John's exact methods for picking gold stocks. But his returns speak for themselves... From 2000 through the end of 2012, John's method for investing in gold stocks has returned 1,239%... Crushing the returns from the S&P 500 (13%), gold (515%), and the XAU gold-stock fund (222%).
In short, John is one of the few gold-stock analysts we trust. We've worked with him for years... And he's produced huge returns for our readers.
If you believe now is the time to start buying gold stocks, as we do, you should consider a subscription to John's
Gold Stock Analyst
newsletter. He's currently offering the service at a large discount. To learn more about John and his proprietary method for picking winning gold stocks,
click here
...
Regards,
Sean Goldsmith
Editor's note:
The Weekend Edition is pulled from the daily
S&A Digest
.