Copper and the S&P 500 usually run together.
But they've been going in different directions since February.
And this week, copper has broken down badly...
Take a look at this one-year chart of copper...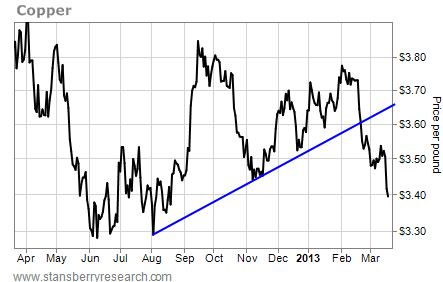 The next level of support for the metal comes in around $3.30. But it could get even worse than that. The breakdown on the longer-term chart below looks even more ominous...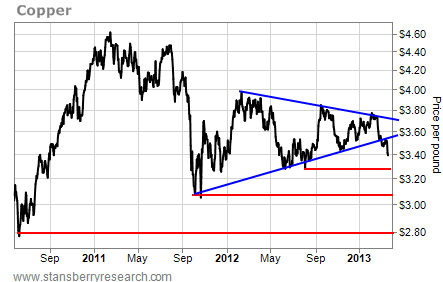 Copper has broken down from a long-term consolidating-triangle pattern. The measured move out of this type of pattern usually equals the height at the beginning of the triangle. Since the bottom of the triangle is at $3.10 and the top is near $3.90, the height of the triangle is $0.80.
Copper broke down from the pattern at about the $3.60 level. So subtracting $0.80 from the breakdown point gives us a measured target of $2.80. That approximately lines up with the low from the summer of 2010.
Copper has initial support at $3.30 and then again at $3.10. The metal could bounce briefly off both of those levels. But over time, copper should decline toward the $2.80 level.
We looked at the relationship between copper and the stock market
last August
. Stocks were moving higher and copper was lagging behind. At the time, I suggested one of the charts was lying... Either copper had to start rallying to catch up with the gains in the stock market, or stocks had to start falling to come back in line with the action in copper. Back then, copper played "catch up" and the stock market rally continued.
Today, we have a similar situation. Only this time, the chart of copper looks more "bad" than the chart of the S&P 500 looks "good."
Best regards and good trading,
Jeff Clark